Last month, Artist-in-Residence Jason Rogalski and Centennial Ambassador Alex Warneke joined forces to bring 32 refugee students from San Diego Refugee Tutoring to Cabrillo National Monument, San Diego's only National Park.
San Diego Refugee Tutoring, based out of City Heights, works with refugee students from the nearby Ibarra Elementary School. Having lived in the United States from one month to four years, these young children have relocated with their families anywhere from the Sudan to Iraq.
Believing in the power of art and nature to transcend all boundaries, Rogalski and Warneke created a program where students were introduced to the aquatic organisms of the Rocky Intertidal Zone at Cabrillo. Through beautifully crafted clay models, created by Jason's students at Julian Charter School, Jason gave SD Refugee students an educational overview prior to their park visit. Many of these students had never even seen the ocean before.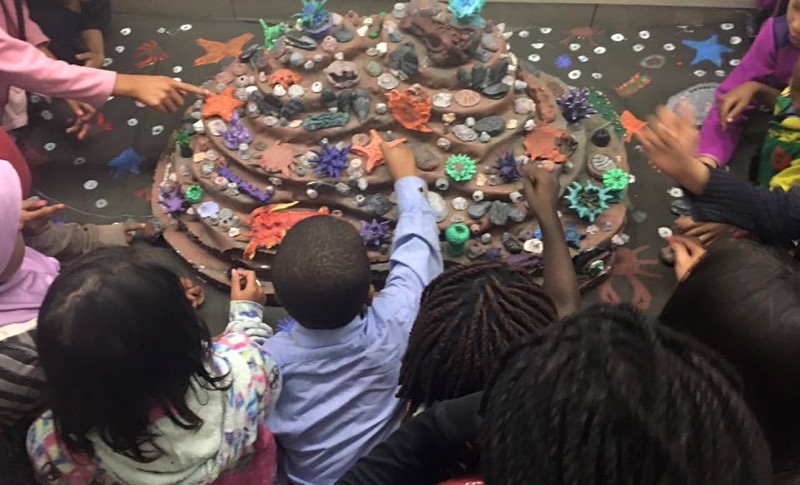 On the day of their visit, the children started the morning with a nature hike down Cabrillo's popular Bayside Trail. Half way down, students spent some time at one of the historical World War II bunkers that has been recently converted into an art studio for the Artist-in-Residence program at the Monument. Here they learned about different artistic techniques and created paintings of their favorite ocean animals. After a lunch spent overlooking the great Pacific Ocean, students trekked down to the Cabrillo tidepools. Warneke, along with dedicated members of the Volunteers-in-Parks program, guided the children on an exploration through the high, middle, and low intertidal zones. Students discovered first hand the power of ocean waves, the unique adaptations that organisms have to withstand the extremes of this area, and the beauty found within each small pool.
Every student walked away fascinated with this watery world and eager to learn more. With the 2016 Centennial on the horizon, this experience was a profound example of the efficacy of what we are called to do throughout the National Park Service. Utilizing the power of art and nature, we were able to effectively inspire and connect with the next generation of environmental stewards. Special thanks to the staff of SD Refugee Tutoring, the Cabrillo education team, and the student ambassadors of Julian Charter School for making this interaction a huge success.
For more information on the Cabrillo Education Program and how to participate, please visit: http://www.cabrilloeducation.org