The Science Explorer's Club is a new program developed by the Science Education team that introduces park visitors to science in the park through hands-on activities. Covering a variety of topics from tidepool monitoring to bird surveys, these activities allow anyone – young and old, big and small – to become a scientist for a day. Visitors are able to use real tools to collect data, just like park scientists do in the field! The goal of the Science Explorer's Club is to encourage environmental stewardship among park visitors and inspire participants to continue their scientific journey long after they leave the park. 
None of this could be possible without the help of some amazing Volunteers in Parks (or VIPs), who facilitate these activities and bring the science to the people. After two successful trainings this month, we are excited to onboard new volunteers who wish to share their love of science with the world. Hats off to these amazing people and all of their hard work!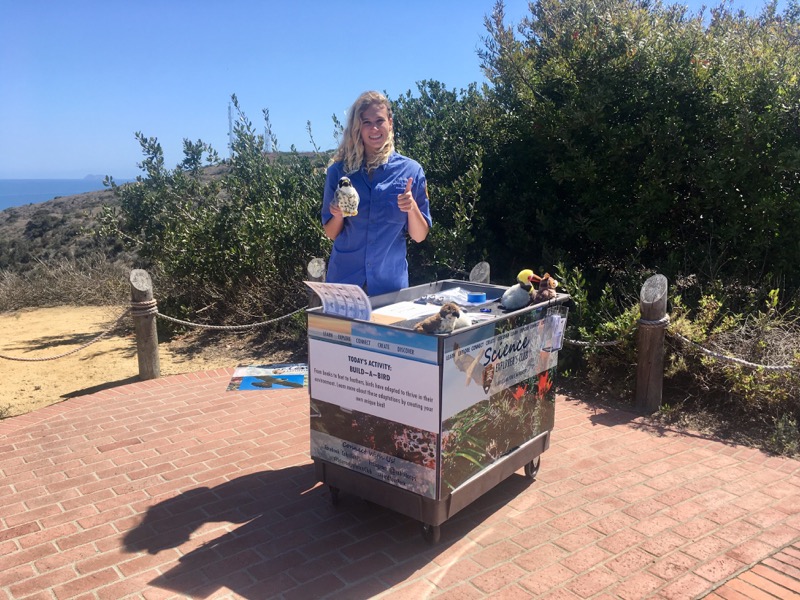 NPS Photo/McKenna Pace – Volunteer Gretchen is excited to talk to visitors about bird adaptations with a Science Explorer's Club activity called Build-a-Bird.
Be sure to stay on the lookout for the Science Explorer's Club roving cart the next time you're out exploring the park. Stop by, ask some questions, and harness your inner scientist!
Are you interested in volunteering with the Science Explorer's Club? Email the author (McKenna) at
mckenna_pace@partner.nps.gov
for more information on how to get involved.