San Diego is a special place to live for a multitude of reasons: our beautiful beaches, all of our incredible parks and other open spaces, and perhaps most especially, our mild climate. But our climate isn't only unique for permitting year-long outdoor sports and beach excursions. San Diego's climate, the Coastal Mediterranean Climate, is found in only 2% of the world and in five localities: the coasts of Western Chile, Western South Africa, Western Australia, and Mediterranean countries like Italy and Greece. This rare climate is characterized by short periods of rainy weather followed by long hot and dry periods. A typical year in San Diego sees, on average, only 10.34" of rain. For comparison, the city of Seattle receives an average of 37.49" of precipitation per year, over three times the amount of moisture. 
Infographic Courtesy of World Weather and Climate Information – A bar chart illustrating the average level of precipitation in San Diego for 2018.

Infographic courtesy of World Weather and Climate Information – A line graph depicting the average monthly hours of sunlight in San Diego.
Water is, of course, essential for plants. So, what do plants do in a climate that's punctuated by frequent drought? They adapt, of course! Many of the native plants in San Diego are what's known as "drought deciduous." Deciduous plants are those that drop their leaves in order to conserve resources during difficult periods – these include all of those beautiful deciduous trees with leaves that turn different colors in fall such as maples, aspens, or sycamores. Trees like this drop their leaves in preparation for winter – they are "winter deciduous" plants. In contrast, drought deciduous plants drop their leaves and flowers in preparation for periods of sparse precipitation – in other words, they go dormant in times of drought. This adaptation helps them to conserve energy and water during those hot, dry months. Visitors to Cabrillo mistakenly think that these plants are dead, when nothing could be further from the truth! Drought deciduous plants, such as the California Bush Sunflower (Encelia californica), are simply biding their time for the first significant rainfall. As soon as they detect enough moisture, they quickly push out leaves and begin to bloom, covering the terrain in new green foliage and beautiful flowers.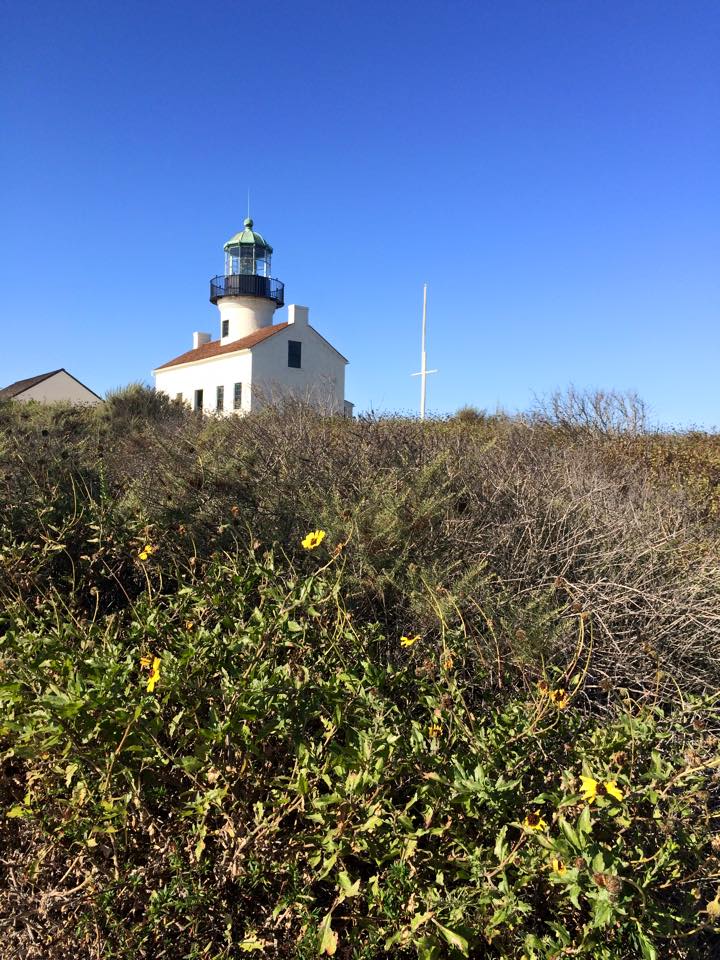 NPS photo – The iconic Old Point Loma Lighthouse with the dry branches of the drought deciduous California Bush Sunflower in the forefront. One of the sunflowers is leaving dormancy and has begun to bloom.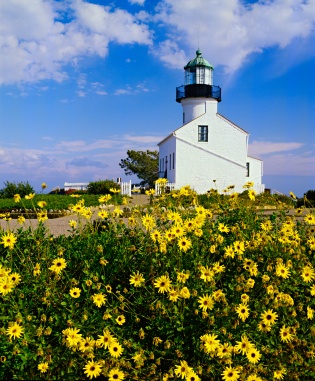 NPS photo – Another shot of the Old Point Loma Lighthouse, this time after a wet year with a hillside covered in blooming California Bush Sunflowers.
One phenomenon of interest to scientists is when drought deciduous plants bloom. In this era of a rapidly changing climate, the timing and duration of bloom might also alter to reflect the timing and quantity of precipitation. This poses a question – what happens if San Diego's wet months are shorter? A possible area of concern is the natural cycle between plants and their pollinators – if plants are no longer blooming during their traditional timeframe, will there be pollinators around to pollinate them? Phenology is the study of cyclic or seasonal life cycles, and many drought deciduous plants are currently being studied by phenologists to answer pressing questions like these.
After the recent heavy rains, Cabrillo National Monument's drought deciduous plants have rapidly escaped dormancy – they've woken up, so to speak. Currently, the monument is verdant, with hillsides dotted in brilliant yellows and oranges, and soft purples and pinks. It's a beautiful time of year at the park, and we recommend you make a visit before the rainy weather ends – don't miss these drought deciduous plants in all of their natural glory!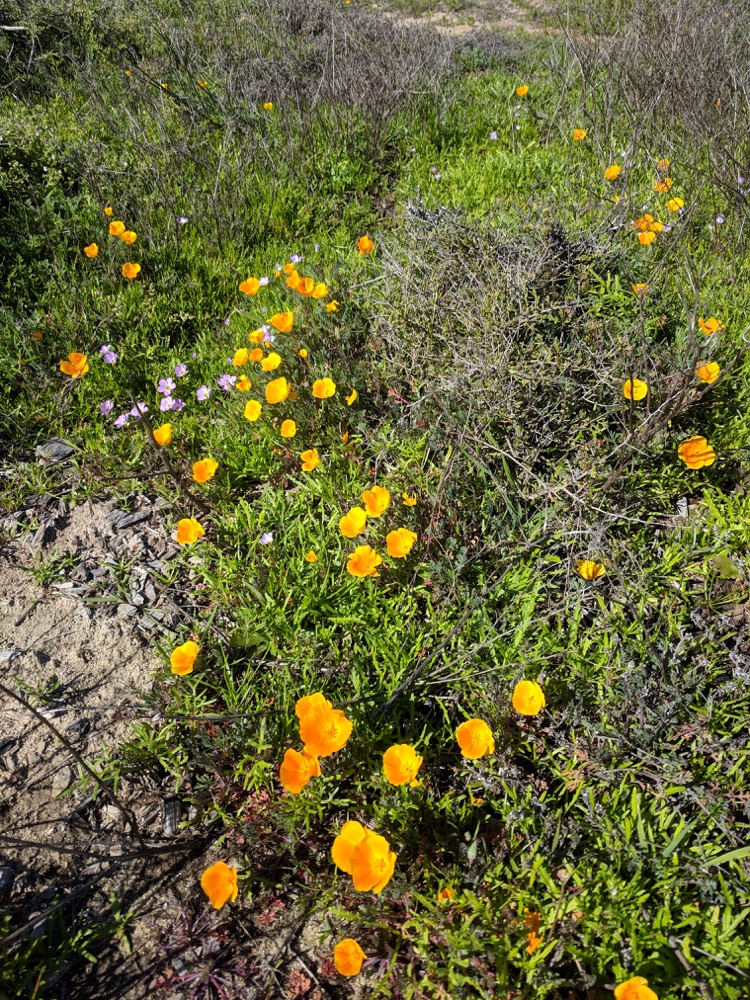 NPS Photo/Samantha Wynns – Blooms of California Poppy (Eschscholzia californica) and Ground-pink (Linanthus dianthiflorus) have popped up at Cabrillo National Monument after the recent rains.
References
Rainfall Statistics:
https://www.sdcwa.org/annual-rainfall-lindbergh-field
http://www.seattleweatherblog.com/rain-stats/
San Diego Climate:
https://weather-and-climate.com/average-monthly-Rainfall-Temperature-Sunshine,san-diego,United-States-of-America
Plants of Cabrillo:
https://static1.squarespace.com/static/557f1354e4b03cb1c9282428/t/5be21f4a2b6a280e5f1ad372/1541545872904/Native%20Plant%20Guide.pdf
Drought Deciduous:
https://www.revolvy.com/page/Drought-deciduous
Phenology: