The Cabrillo Adventure Traveling Trunk is designed to introduce teachers and students to the historical, cultural, and natural resources of their National Park, Cabrillo National Monument. The Cabrillo Adventure Traveling Trunk was designed to be used by San Diego county teachers in a variety of ways. The activities are designed to be used either as an entire class or in small groups, and the trunk also includes a set of "Beyond the Classroom" activities designed for teachers to use once the trunk has been returned to the park. It is our hope that the learning will continue beyond the Traveling Trunk, whether on a field trip to Cabrillo, in your own backyard, or elsewhere. Like all of our other Traveling Trunks, the Cabrillo Adventure trunk is available for teachers to use for up to two weeks at a time and are free of cost. Here's a glimpse of what's inside:*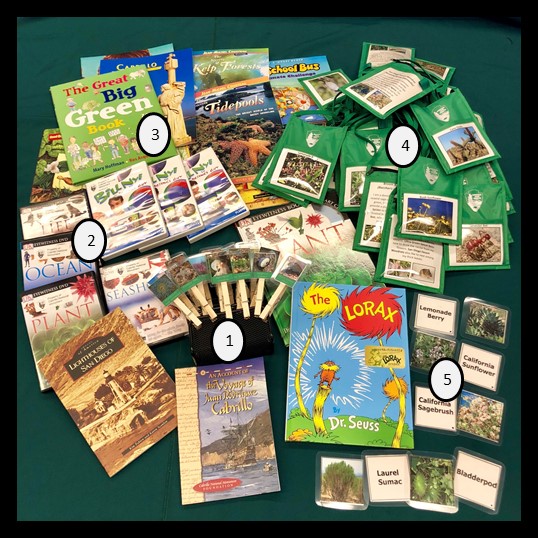 NPS Photo/Andrew Rosales – The contents of the Cabrillo Traveling Trunk, including books, games, and DVDs.
Intertidal Guess Who: This game helps students learn more about the organisms that inhabit the Rocky Intertidal. This is a science-focused spin on the classic board game where players vie to find out what organism their opponent has.
DVD Collection: There are titles on topics including plants, ocean ecosystems, and the climate.
Books: The book collection has selections on Juan Rodriguez Cabrillo, lighthouses, tidepools, shells, kelp forests, and plants.
Biodiversity Web Game: The trunk contains two web games. There is a terrestrial (land) version and an intertidal version. These games build understanding of how the biodiversity of an ecosystem is interconnected. In this activity, students will be able to see and feel the impacts and connectivity of species within these ecosystems. 
Native Plant Matching Game: This game introduces students to the top ten most prominent native plants here at Cabrillo National Monument. Players turn over cards and try to match pictures to names.
*Note that this is not a comprehensive list of everything inside the trunk, but an overview. 
To read the lesson plans for each activity, preview the worksheets, or reserve the trunk, visit our website at
http://cabrilloeducation.com/traveling-trunks/
. Make your reservation today!