Tower Bridge

The trail to Tower Bridge begins at Sunrise Point and heads northeast along the Fairyland Loop Trail. It is not a loop trail.
Tower Bridge Trail is considered a "moderate hike" due to the drop in elevation from the rim down to Tower Bridge site (950 ft/290 m). The 3 mile (4.8 km) hike takes about 2-3 hours to complete.
Once at Tower Bridge one has the option of returning to Sunrise Point or continuing on farther around the Fairyland Loop (8 miles / 12.8 km total).
Recommend carrying plenty of water.

Sunscreen for UV protection.

Snakes & other animals are prevalent on this trail. DO NOT FEED OR HARASS WILDLIFE.

Foot traction devices are strongly recommended in winter.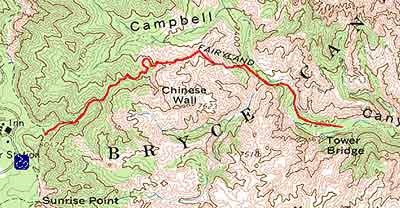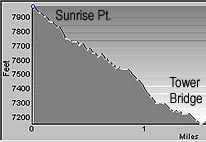 Total Distance:

3 miles
4.83 km

Climbing:

950 feet
290 m

Descending:

950 feet
290 m

Min/Max:

7149/8000 feet
2179/2438 m
Last updated: September 4, 2021