Mossy Cave Trail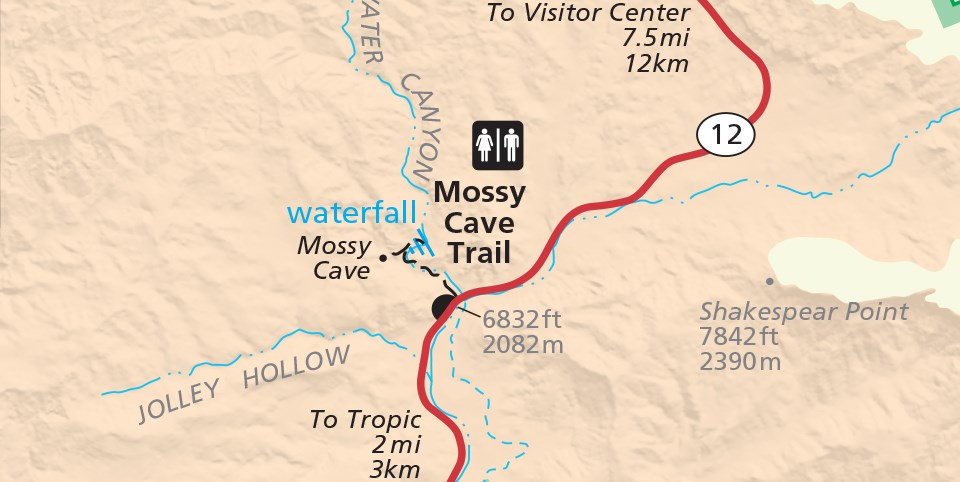 Mossy Cave
Mossy Cave trail is one of the lowest elevation hikes in the park as well as one of the only hikes that begins with a climb and ends with a descent (most day hikes in the park begin with a descent and end with a climb). It is also the northernmost hike in the park, located just off of SR 12 as it winds its way through the park boundary. The trail is 0.4 miles (0.6 km) in length one-way, and forks to provide access to Water Canyon in one direction and to view a sheltered overhang known as Mossy Cave in the other. This area is filled with mosses in the summer and icicles in the winter. Due to the presence of an irrigation ditch dug by local pioneers in the early 1890s, water flows seasonally through Water Canyon on its way from the Tropic Reservoir east of the park to communities in the Paria Valley.
| | |
| --- | --- |
| Difficulty | Easy |
| Total Distance | 0.8 miles (1.3 km) out and back; not a loop |
| Elevation Change | 300 feet (91 meters) |
| Min/Max Elevation | 6819/7023 feet (2078/2140 meters) |
| Directions/Trailhead Location | Departing from the park Visitor Center, drive 4 miles (6.4 km) north on UT 63 (main park road) north to its junction with SR 12. Turn right and drive 3.5 miles (5.6 km) east. Parking will be on the right hand side. Do not park along the shoulder of SR 12. If parking lot is full, return to hike at another time. |
| Facilities | There is a pit toilet located at the trailhead. No other services. |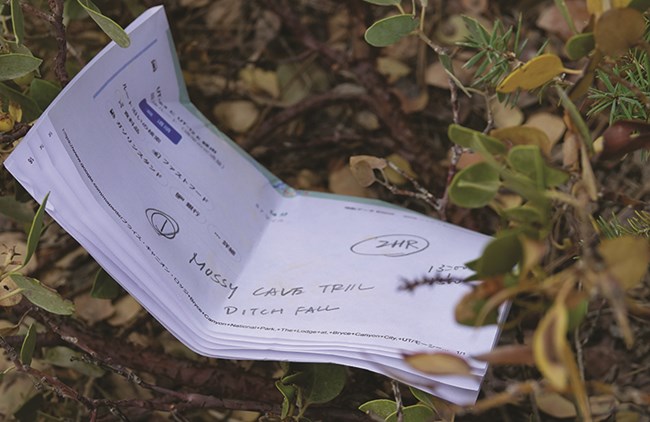 Visitation Impacts at Mossy Cave
Mossy Cave has become an increasingly popular area in Bryce Canyon due to several factors including overall increased visitation at the park and a surge in social media postings about the trail. As a result, visitation has significantly increased over the past two years. Since last June, visitation increased by 20% with 6,000 more visitors visiting this small area in one month than in 2019. The increased number of visitors on the trail itself has led to vegetation trampling, litter and other impacts caused by crowded conditions.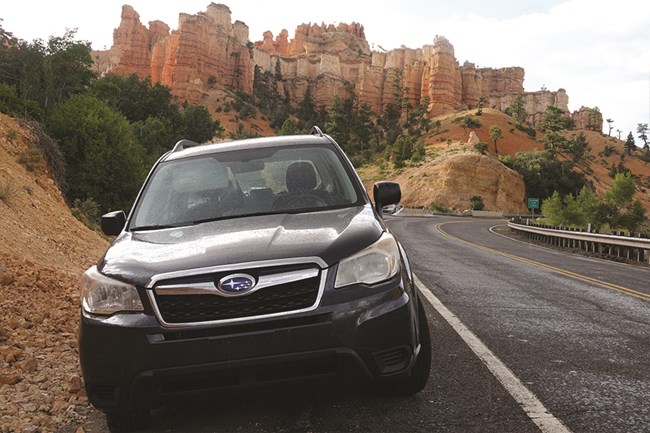 Visitor Tips
This area is extremely busy between 10 a.m. and 6 p.m. Visit early in the morning or later in the evening to avoid congestion and find parking.
If the parking lot is full, return at another time. Parking along SR 12 is not permitted. It is dangerous to walk along this road, and vehicles that park along the shoulder may be ticketed.
Delicate rocks and sensitive plants exist throughout this area. Please stay on the main trail and respect all posted signs.
While visitors are permitted within the water, we ask that they enter and exit at bridge crossings to reduce social trails elsewhere.
No camping is permitted in the Mossy Cave area, including the parking lot.
Mossy Cave is a fee area, like the rest of the park. Keep your park pass or proof of admission with your vehicle for rangers to inspect.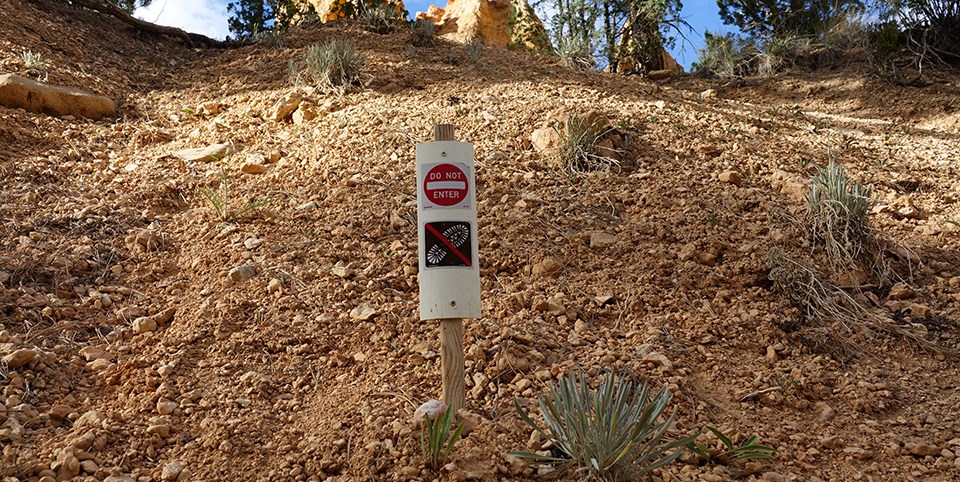 History
At first, this canyon known as Water Canyon, might look like any ordinary Bryce Canyon kind of canyon. It's not. From 1890-1892 Mormon pioneers labored with picks and shovels to carve an irrigation ditch from the East Fork of the Sevier River, through the Paunsaugunt Plateau, into this canyon.
Nature
The presence of water alone is what makes Water Canyon unique. Although you might not see them (animals tend to avoid busy trails - especially in daylight hours), a wide diversity of animals come here regularly to quench their thirst. The supply of water is still recent enough that nature hasn't quite caught up yet. Eventually more riparian trees like willows and cottonwoods will probably grow here. In the meantime you'll be surprised to see some plants that you might expect to find along a brook in a mountain meadow, such as Mountain Death Camas and Watson Bog Orchid.
Geology
As you hike up the Mossy Cave Trail, notice how the higher elevations of this "canyon" have the lumpy, broken, and random texture typical of Bryce Canyon and its hoodoos. You will also see how the lower section is without hoodoos, and has smooth angled sides looking like a 'V' in cross-section. Because of this little water course, it is unlikely that any more hoodoos will form here. The existing hoodoos will eventually crumble and Water Canyon will have completed the metamorphosis, becoming a "real canyon."

Take the left fork of the trail up to Mossy Cave. Mossy Cave is not a cavern but a shelter cave. Here depending on the season, you will either see a large overhang filled with moss, or filled with giant icicles. Mossy Cave is a grotto, created by an underground spring.

Take the right fork of the trail and you'll end up above a small waterfall. Here, the rapid trenching of this stream has been delayed by a layer of Dolomite. Dolomite is a special form of limestone that is fortified by magnesium. Dolomite is not only harder than regular limestone; it also can't be dissolved by slightly acidic rainwater. Dolomite is what has created this waterfall and it is also the cap rock for our more famous and durable hoodoos.
Last updated: July 23, 2020