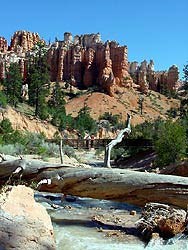 Mossy Cave is in the northern section of the park, located on Highway 12, approximately 4 miles east of the intersection of Highways 12 and 63. Look for a small parking area on the right-hand side immediately after crossing a little bridge. The Mossy Cave itself is at the end of a short trail. Here too you can see hoodoos and windows without having to hike a steep trail.
At first, this canyon known as Water Canyon, might look like any ordinary Bryce Canyon kind of canyon. It's not. From 1890-1892 mormon pioneers labored with picks and shovels to carve an irrigation ditch from the East Fork of the Sevier River, through the Paunsaugunt Plateau, into this canyon.
Every year since its completion in 1892 (except during the drought of 2002), this canal known as the Tropic Ditch has supplied the communities of Tropic and Cannonville with irrigation water.