Mossy Cave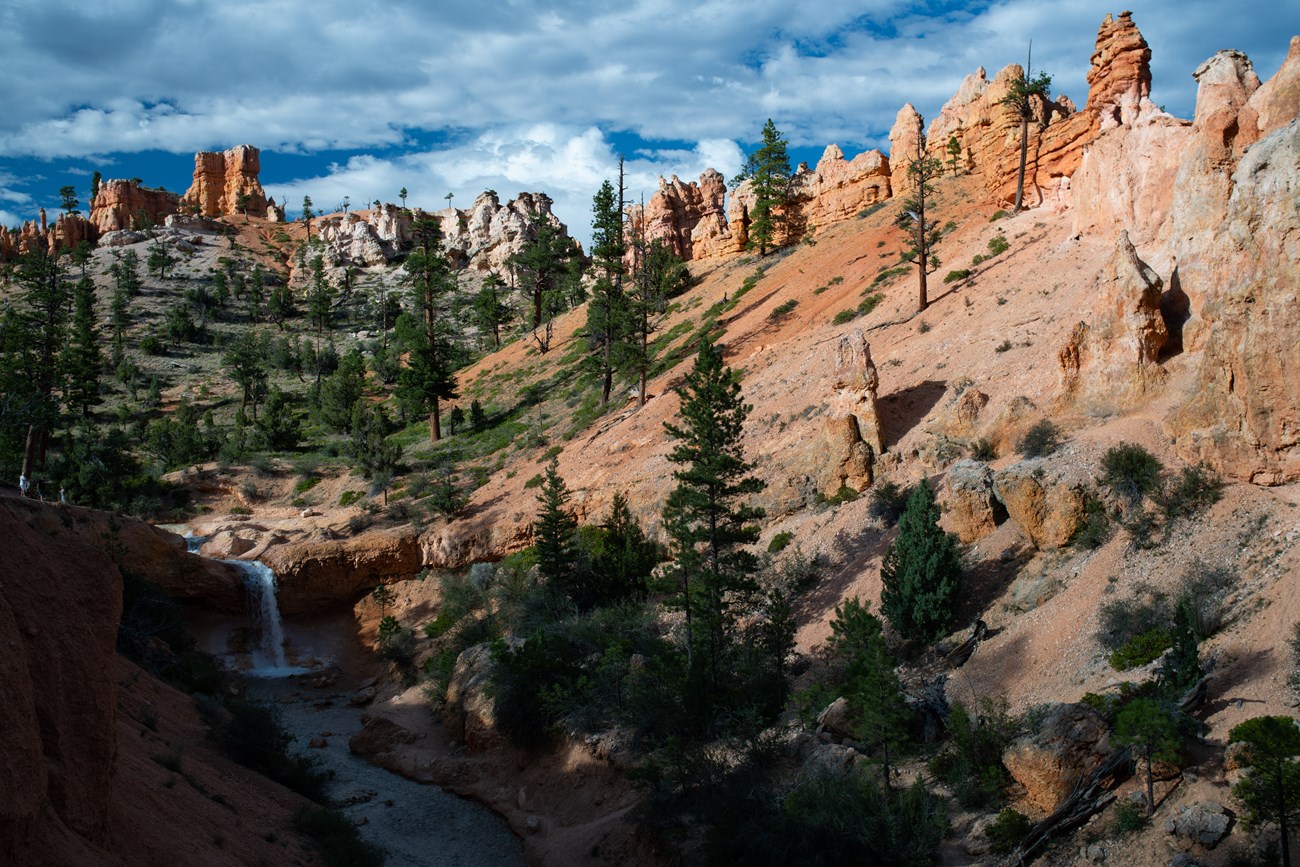 Mossy Cave is in the northern section of the park, located on Highway 12, approximately 4 miles east of the intersection of Highways 12 and 63. Look for a small parking area on the right-hand side immediately after crossing a little bridge. The Mossy Cave itself is at the end of a short trail. Here too you can see hoodoos and windows without having to hike a steep trail.
At first, this canyon known as Water Canyon, might look like any ordinary Bryce Canyon kind of canyon. It's not. From 1890-1892 mormon pioneers labored with picks and shovels to carve an irrigation ditch from the East Fork of the Sevier River, through the Paunsaugunt Plateau, into this canyon.
Every year since its completion in 1892 (except during the drought of 2002), this canal known as the Tropic Ditch has supplied the communities of Tropic and Cannonville with irrigation water.
Geology
By definition Bryce Canyon is misnamed, it is not a real "canyon". Canyons are carved by flowing water. Most of the "canyons" of Bryce are carved by ice forming in cracks - a process known as frost wedging. Even though the Tropic Ditch has been flowing for only a century it has changed the geology of Water Canyon. As you hike up the Mossy Cave Trail, notice how the higher elevations of this "canyon" have the lumpy, broken, and random texture typical of Bryce Canyon and its hoodoos. You will also see how the lower section is without hoodoos, and has smooth angled sides looking like a 'V' in cross-section. Because of this little water course, it is unlikely that hoodoos will form here. The existing ones will eventually crumble and Water Canyon will have completed its metamorphosis into a "real canyon."
Nature
The presence of water alone is what makes Water Canyon unique. Although you might not see them (animals tend to avoid busy trails - especially in daylight hours), a wide diversity of animals come here regularly to quench their thirst. The supply of water is still recent enough that nature hasn't quite caught up yet. Eventually more riparian trees like willows and cottonwoods will probably grow here. In the meantime you'll be surprised to see some plants that you might expect to find along a brook in a mountain meadow, such as Mountain Death Camas and Watson Bog Orchid.
Trails
Visit the Mossy Cave Trail page for more information.
Services
None
That's the end of our virtual tour! Start over or find out what else you can do at Bryce Canyon National Park!
Last updated: June 24, 2023