Fairyland Loop


Fairyland Loop Trail begins at Fairyland Point, at the northern portion of the park, and takes you through spectacular hoodoos and scenery along the rim and into the canyon; including a spur trail to Tower Bridge. This hike is considered strenuous due to its length and meandering trails with multiple elevation changes.
The Fairyland Loop Trail also includes a portion of the Rim Trail from Sunset Point to Fairyland Point.
Recommend carrying plenty of water, 1 quart (liter) for every 2-3 hours of hiking per person, as this hike typically takes 4-5 hours round trip over the 8 mile (12.9 km) length.
In the summer sun screen or large brim hats are recommended year round to avoid sunburn.
Carry plenty of water, snacks and maybe a sports drink.

Watch for snakes on the trail.

Do Not Harass or Provoke Wildlife.

Foot traction devices are advised during winter.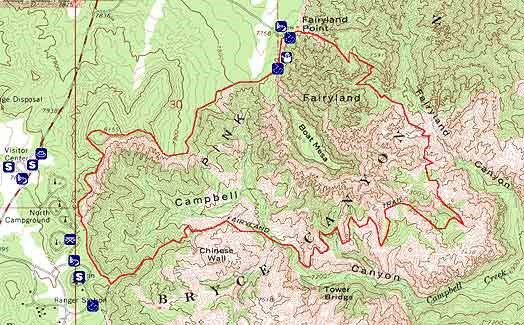 Total Distance:

8.0 miles
12.87 km

Climbing:

2309 feet
704 m

Descending:

2309 feet
704 m

Min/Max:

7163/8152
2183/2485 m
Last updated: September 21, 2021