Wall Street side of Navajo Loop reopens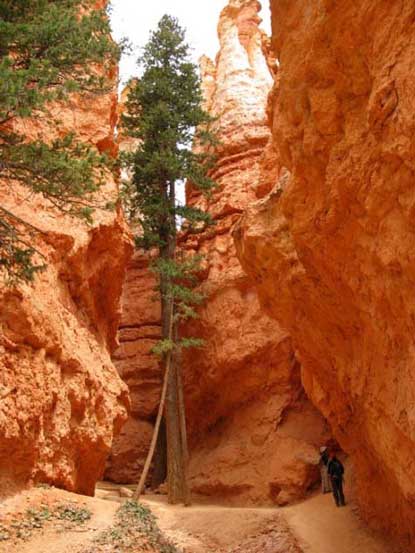 News Release Date:
July 29, 2010
Contact: Dan Ng, 435.834.4740
Bryce Canyon National Park has reopened the popular Wall Street section of the Navajo Loop Trail which was closed back in April 2010 due to falling rocks. Trail crews have been busy over the past several weeks clearing rocks which have fallen since the closure. Wall Street takes visitors through a narrow passage between towering rock fins and centuries-old Douglas-fir trees.
Rock falls are part of the natural geological processes which shape the colorful spires called hoodoos. This process is known as frost wedging; water from rain and snow seeps into cracks in the rock during the day and then freezes at the night. The tremendous pressure exerted when water expands during freezing widens the cracks and loosens the rock. At an elevation of 8,000 feet, Bryce Canyon experiences 200 days of freeze/thaw cycles each year.
It is not unusual for trail closures during the year. In May 2006 a significant rock fall occurred on the Wall Street section of the Navajo Loop Trail. The rock debris covered an area roughly 60 feet long, 15 feet deep and 15 feet wide with an estimated mass of 400-500 tons. The largest rock was as large as a midsized car. This event closed Wall Street for over a year as trail crews constructed a new path around the slide.
Visitors are reminded to wear hiking boots with lugged soles when descending the steep trails. Falling rocks are more common along Wall Street than any other trail in Bryce Canyon and can cause serious injury or death.
Freezing temperatures, rain, and strong winds can trigger rock falls so visitors are encouraged to consider these risks when hiking. Current trail conditions can be obtained from the Bryce Canyon Visitor Center.
Last updated: February 24, 2015