Utah Prairie Dog Day - 2012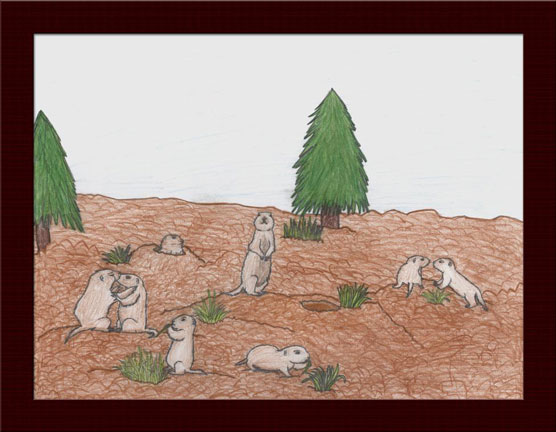 News Release Date:
June 6, 2012
Contact: Sarah Haas, 435.834.4753
Bryce Canyon National Park invites participants to help celebrate the
third annual Utah Prairie Dog Day
June 22, 2012
Bryce Canyon National Park Superintendent Jeff Bradybaugh invites you to join the park in our third annual celebration of the Utah Prairie Dog, a native species to Utah and the Bryce Canyon area. Utah Prairie Dog Day will occur on Friday, June 22, 2012 from 9 a.m. through the evening with planned activities that include watching Utah prairie dogs in their natural habitat with a Park Ranger, special presentations on Utah prairie dogs and educational tables with fun activities for kids and adults alike! Don't miss our special guest, "Petey, the Prairie Dog" who will be popping up from his burrow throughout the day! All daytime activities will take place at the Bryce Canyon Visitor Center.
The theme of this year's Utah Prairie Dog Day celebration is "Appreciating the Under Appreciated Utah Prairie Dog" - Bryce Canyon National Park is highlighting the important - and often misunderstood - role that Utah prairie dogs play in our environment. Utah prairie dogs are considered "keystone species" that perform a variety of important ecological functions including soil aeration which helps plants grow, providing prey for other animals, and maintaining meadow ecosystems. This year's guest speaker, Dr. Nicki Frey, a Utah State University Extension Wildlife Specialist and Professor, will present "Appreciating the Under-(Utah prairie)-dog" at the Bryce Canyon Lodge at 8:00 p.m.
A year-round inhabitant of Bryce Canyon's high plateau meadows, Utah prairie dogs live in social colonies or "towns" and display amazingly complex communication. Their burrow systems are made up of several chambers and provide the animals with protection from predators, places to raise young, store food, and hibernate through the cold winter months. Appreciating the Utah prairie dog and understanding its beneficial role in the environment can help humans learn about healthy ecosystems and the critical role that every species plays in maintaining the diversity of life.
Park Biologist Sarah Haas states, "This year's celebration of the Utah prairie dog focuses on understanding and appreciating the role of the Utah prairie dog in sustaining healthy habitat for a large variety of wildlife. Over 200 species have been associated with prairie dog colonies, including species that either depend upon or directly benefit by prairie dog activity for survival. Although it can be difficult to appreciate a species that can interfere with human activity and livelihood, the Utah prairie dog has an important role to play in the environment that positively impacts the natural world."
Utah students in classes K-6th at Bryce Valley and Panguitch Elementary schools participated in a poster contest this year. Artwork depicting Utah prairie dogs was submitted and judged by Bryce Canyon National Park and Natural History Association staff. First place winners from each class were selected with the grand prize winner's artwork placed on this year's Utah Prairie Dog Day official poster. The park is proud to present a drawing by Katy Bair, Panguitch 6th grade, as this year's poster contest winner! (Picture at top). Over 300 entries were submitted and the students did outstanding work!
All students (K-12th) and their families can enter the park free on Utah Prairie Dog Day. Just tell the Park Ranger at the entrance gate: "I'm here to see the Utah prairie dogs!" and you'll be admitted for free!
Last updated: February 24, 2015