News Release
Show Bryce Canyon National Park some love on Public Lands Day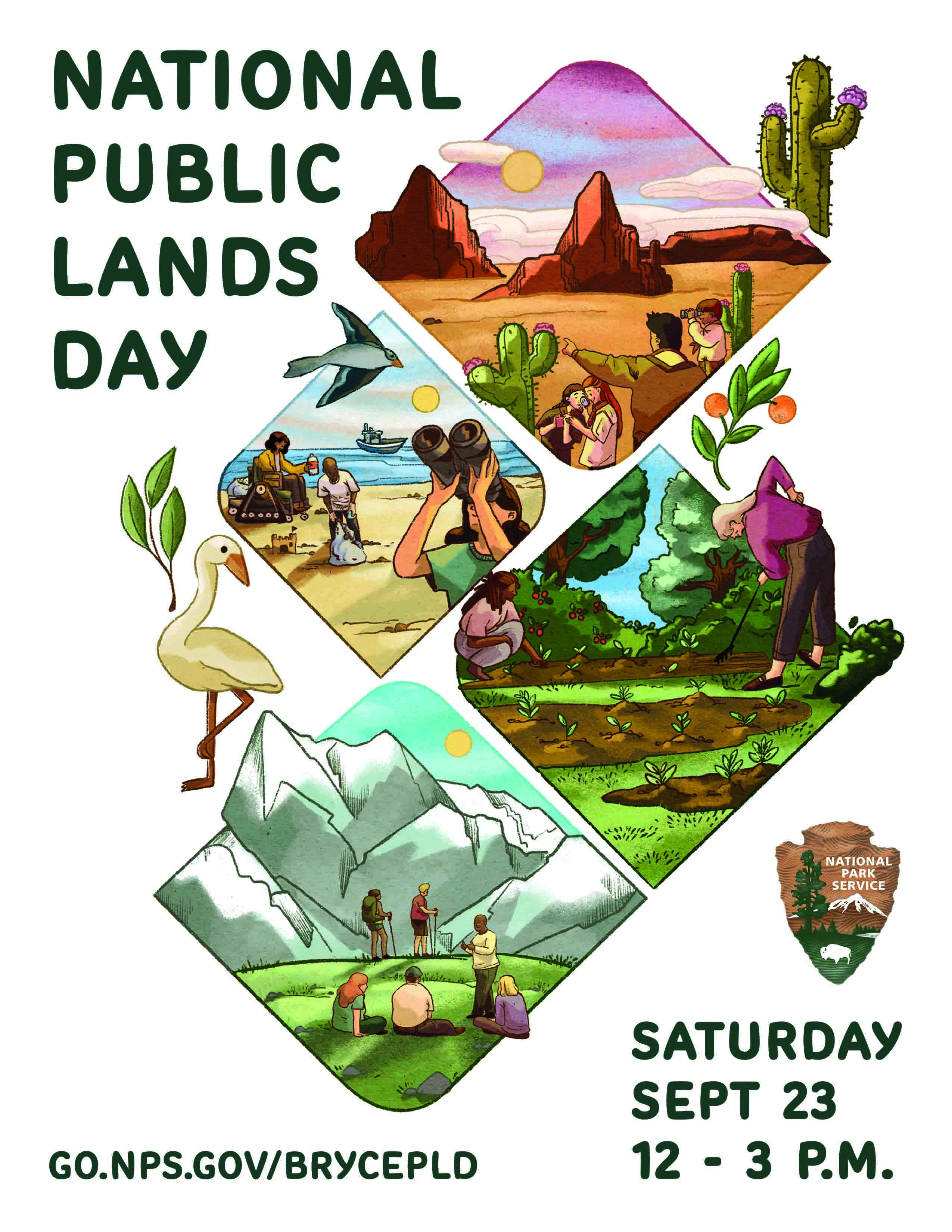 News Release Date:
August 30, 2023
Contact: Joy Lamarre, 435-834-4743
Since 1994, National Public Lands Day has mobilized volunteers on the fourth Saturday in September to celebrate and care for something we all share—our nation's public lands. Bryce Canyon National Park invites the public to join rangers for a volunteer event on September 23, 2023, from 12:00 p.m. - 3:00 p.m. Individuals, school groups, families and community organizations are all encouraged to participate. For more information and to sign up, please visit go.nps.gov/BrycePLD.

Do you like to paint? Hike? Keep a beautiful area trash-free? Projects on September 23 will include painting fences, closing off social trails and picking up trash at viewpoints. Volunteers will meet at the Bryce Canyon Visitor Center plaza at 12:00 p.m. and then break into project teams. Safety gear and supplies will be provided. Work will wrap-up at 3:00 p.m.

Entrance to all federally managed sites is free on National Public Lands Day, September 23, 2023. Additionally, each volunteer will receive an entry pass valid at all federally managed public lands, including all national parks and recreation areas. The pass is a single-use ticket and valid for one year after date of issue.

In addition to the free entry pass, one night of campsite reservation fees for your party will be waived in exchange for three hours of volunteer work. There are a limited number of campsites, so we must receive your registration at least a week in advance to qualify for a campsite. 

"If you love Bryce Canyon National Park, this is a special opportunity for you and your community to contribute your time and talents," said Joy Lamarre, park volunteer coordinator, "The work you do will help us to protect park visitors, geological features, wildlife and scenic vistas for generations to come."

Advance sign-up is appreciated. For more information about National Public Lands Day and to sign up to volunteer at Bryce Canyon National Park, visit go.nps.gov/BrycePLD or call (435) 834-4743.

About National Public Lands Day
Celebrating 30 Years of Care and Community, National Public Lands Day has joined people across the nation in the care and celebration of our public lands. From humble beginnings with one federal agency, two sites, and 700 volunteers, National Public Lands Day has grown into the largest single-day volunteer event for public lands.

As a signature event of the National Environmental Education Foundation (NEEF), National Public Lands Day fosters a strong connection between people and the environment, educating and cultivating environmental stewards. Learn more at www.neefusa.org.
Last updated: August 30, 2023