Wall Street Closed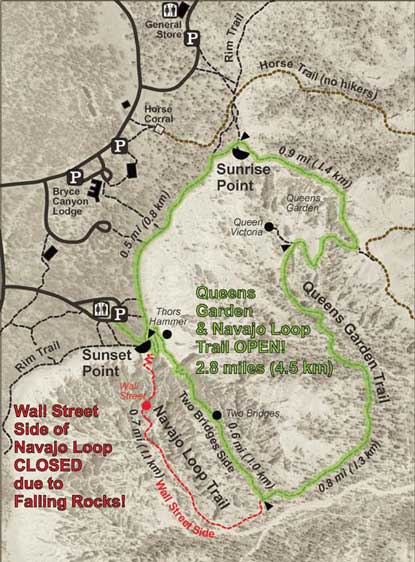 News Release Date:
April 1, 2010
Contact: Dan Ng, 435.834.4740
Park Closes Section of the Navajo Loop Trail Due to Falling Rocks
Bryce Canyon National Park has closed the Wall Street section of the popular Navajo Loop Trail due to falling rocks. Recently two visitors were stuck by rocks (one as large as a softball) while hiking into Wall Street. Fortunately, their injuries were minor.
The Wall Street section will remain closed until further notice. When conditions are safe, park staff will assess the trail conditions to determine when it can be reopened. Visitors should inquire at the Visitor Center for the latest trail information.
The other section of the Navajo Loop Trail, known as Two Bridges, remains open but visitors are cautioned to watch out for falling rocks and slippery trail conditions. Hiking is at their own risk. Along this trail, visitors can still complete the 3-mile long Queen's Garden/Navajo Loop Combination Trail.
Due to the abundant snowfall this winter, the snow is still 2-3 feet deep. Trails are snow-packed, icy and muddy. Visitors are urged to wear hiking boots with lugged soles for traction and use caution when descending and ascending steep trails.
Rock falls are part of the natural geological processes which shape the colorful spires called hoodoos. This process is known as frost wedging; water from rain and snow seeps into cracks in the rock during the day and then freezes at the night. The tremendous pressure exerted when water expands during freezing widens the cracks and loosens the rock. At an elevation of 8,000 feet, Bryce Canyon experiences 200 days a year of freeze/thaw cycles.
It is not unusual for trail closures during this time of year. In May 2006 a significant rock fall occurred on the Wall Street section of the Navajo Loop Trail. The rock debris covered an area roughly 60 feet long, 15 feet deep and 15 feet wide with an estimated mass of 400-500 tons. The largest rock was as large as a midsized car. This event closed Wall Street for over a year as trail crews constructed a new path around the slide.
Last updated: September 17, 2021