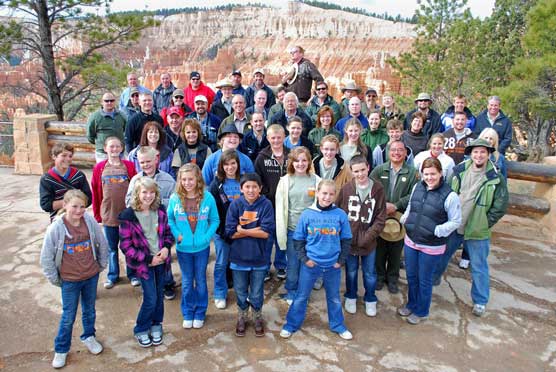 News Release Date:
September 13, 2010
Contact: Dan NG, 435.834.4740
ELECTRONIC FIELD TRIP HOSTED AT
BRYCE CANYON THIS PAST SPRING
This past year Bryce Canyon National Park was one of two national parks selected by the National Park Foundation to host its live one-hour Electronic Field Trip (EFT) broadcast. Students in grades 4 through 8 from across the country and world participated in the EFT to explore the unique geology and paleontological resources of Utah's Bryce Canyon National Park. This EFT was titled Discovering the Mysteries of Bryce Canyon National Park and featured two live, one-hour broadcasts from the park on Tuesday, May 18th, 2010.
A companion website was hosted by the park's resident Geo-Detective character, an Allosaurus named Professor Allister McFragilis, and featured downloadable lesson plans for teachers and interactive games for youth. Games such as The Case of the Missing Assistant and The Case of the Mixed Up Hoodoos took students on a tour of the national parks of Southern Utah and asked for their help in finding names for famous hoodoos in the park. The online curriculum including interactive games and lesson plans for teachers is available at www.brycecanyoneft.org.
The Bryce Canyon Electronic Field Trip focused on the unique elements of the park—its geological and paleontological resources—which have been shaped and etched by millions of years of freezing water, temperature extremes and other natural forces. The hour-long live broadcast from Bryce Canyon offered participating students a chance to ask questions of park rangers, including the age-old question, "what's a hoodoo?" E-mail boxes were set up so teachers and students could ask a bank of park "experts" more questions.
The program was broadcast from four park locations (two on the rim, one below the rim along the Navajo Loop Trail and one in the forest). From the large television trailer equipped with satellite dish, a maze of cables stretched for thousands of feet along the sidewalks, trails and over the canyon's rim.
Seventeen students from surrounding schools (Panguitch Elementary School and Panguitch Middle School in Panguitch, UT and Bryce Valley Elementary School and Bryce Valley High School in Tropic, UT) were selected to host the show with park rangers. Wearing their "Utah Rocks" T-shirts they did a wonderful job in front of the camera.
Park Project Inspector Kenny Hall opened the show singing his original cowboy tunes by campfire. Acting Superintendent Jacque Lavelle introduced the program followed by Chief of Interpretation, Dan Ng and student Darri as hosts. Park Rangers Jan Stock, Kevin Doxstater and Cheryl Evans paired up with students Rowdy, Kenzy and Joshua, and Natalie respectively to discuss geology, human history, plants and wildlife. Ranger Sean Duffy teamed up with Bryce Canyon Natural History Association Executive Director/Paleontologist Gayle Pollock and student Natalie at the fossil table.
Months of work were involved in the planning, logistics, promoting, coordinating and rehearsing. Fighting the outdoor elements of wind and rain, the dedicated work of rangers, students and production crew contributed to the success of the broadcast. Special thanks goes to the National Park Foundation Program Director, Matt Ferris, director Bob Gothro, producer Jeff Moon, camera and sound technicians, Bryce Canyon National Park staff, the Bryce Canyon Natural History Association and especially the students.
Schools from 46 states and Japan, Canada, Germany, Cuba, Italy, and Switzerland signed up to participate in EFT. Over 5,900 schools and 120,000 students registered for the broadcast. With 40 PBS stations broadcasting the program the estimated viewing audience was over 7,500,000 people.
"The Electronic Field Trip to Bryce Canyon is turning one of America's most stunning national parks into one of America's most interesting and exciting classrooms," said Neil Mulholland, president and CEO of the National Park Foundation. "At a time when school budgets nationwide have been cut to bare bones, the National Park Foundation is proud to partner with the parks to connect students around the country to their parks – this is a tremendous free resource for both students and educators."
Comments from participating teachers include:
I work in a low socio-economic school and most of my students may never have the opportunity to visit some of this country's great National Parks. This EFT allowed them to at least experience the park virtually.
We enjoyed the online lesson plans and games! Having participated in these prior to the show, the students had background information and were very interested.
The students enjoyed the fact that there were real students in the show.
Great show it tied in with our curriculum nicely....It was our first attempt at something like this at the elementary level....it was a great success and the teachers are excited to do more!
What's the likelihood I could take 23 kids on a field trip down to southern Utah? There's no way I could do that. This is as close to being there as we can get.
I found the real-life application of our science standards to be the most valuable part of the show. You hit many of our Earth Science and Life Science standards head on, and helped me segue into how important it is to study and then protect our natural wonders.
I enjoyed the opportunity to show my urban learners from the mid-west some topography that they would otherwise never get to experience.
My students enjoyed the interactive element of the show, and we emailed the rangers our most thoughtful question. They kept asking during the school day if the answer had come via e-mail they were so excited. This morning it was the first thing on their minds. Thanks for the timely return e-mail, as I'm sure you received many.
A few of my students said they are going to ask their parents to take them there this summer.
I wish these were held more often. My students were disappointed that they'd have to wait so long for another one. We have spent a lot of time this year focusing on National Parks and my students are developing a passion for them.
North Cascades National Park will be the host of the next EFT broadcast on October 13, 2010. With warming temperatures affecting snowfall and glaciers, the topic will be on climate change.