Asteroid named in honor of Bryce Canyon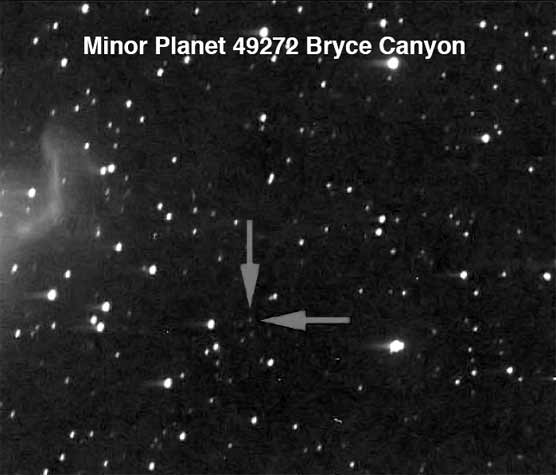 News Release Date:
May 21, 2007
Contact: Kevin Poe, 435.834.4412
Contact: Angie Richman, 435.834.4401
Asteroid named after Bryce Canyon National Park
This month, the International Astronomical Union approved the naming of minor planet 49272 to become "Bryce Canyon." There are literally hundreds of thousands of asteroids circling our Sun, ranging in size from several yards across to hundreds of miles across and having various shapes; astronomers refer to these bodies as minor planets. Minor planet 49272 was discovered by astronomer Roy Tucker in 1998. This year, at the urging of Utah amateur astronomer and NASA Solar System Ambassador Patrick Wiggins, Tucker agreed to name the asteroid Bryce Canyon in honor of the national park and to recognize its public stargazing programs.
Wiggins has been sharing the night sky with the public over three decades, and is especially fond of Bryce Canyon National Park. "There are few places in the world darker than Bryce Canyon— it is one of the last holdouts of natural darkness, far from city lights." Wiggins, the Salt Lake Astronomical Society, and the National Park Service have been partners in promoting the scenery of the night sky. "If you haven't seen a truly dark sky, you don't know what you are missing," say Wiggins. The first stargazing programs at Bryce Canyon National Park were conducted in 1969, and they have been getting more popular ever since. Astronomy programs are offered by park rangers most Wednesdays and Fridays throughout the summer. Especially popular is the park's Astronomy Festival, held this year, June 13-16. Wiggins is a regular guest speaker at the park, updating the public on what is up in tonight's sky and current space exploration as an extension of the NASA Solar System Ambassador program.
Bryce Canyon becomes the second minor planet named after a national park, the first being "Sequoia" after the national park in California. Bryce Canyon is too dim to be seen by a small telescope. It orbits our Sun between Mars and Jupiter, or nearly 200 million miles farther out than Earth's orbit. Estimates are that Bryce Canyon is about 3 to 5 miles across, giving it about the same surface area as its national park namesake on Earth.
Acting Chief of Interpretation, Kevin Poe cautions "Those attending one of Bryce Canyon's popular stargazing programs won't likely be able to see the small asteroid through a park telescope, however there are plenty of other sights in the heavens that will impress." For further information, contact Kevin Poe 435-834-4412 or Angie Richman 435-834-4401.
Last updated: February 24, 2015