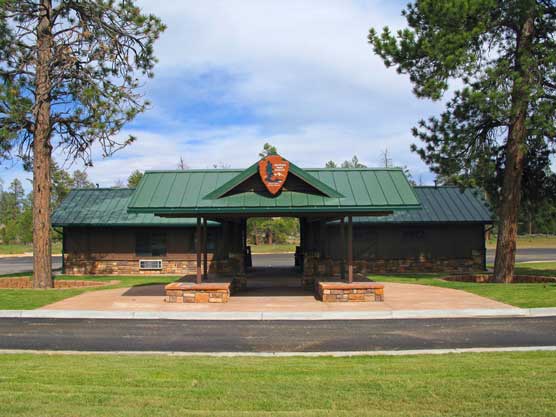 News Release Date:
May 19, 2008
Contact: Dan Ng, 435.834.4400
A New Facility for the Bryce Canyon Shuttle
Bryce Canyon National Park is pleased to announce a new building for its park shuttle system, located across the road from Ruby's Inn just north of the park's boundary. The facility will house shuttle operations and staff, entrance fees and reservations, public restrooms and parking. This is a joint partnership between Bryce Canyon City, Best Western Ruby's Inn, Lewis Bros. Stages and Bryce Canyon National Park.
This facility was made possible by a generous donation from Bryce Canyon City and Best Western Ruby's Inn. They provided land and funded construction for the project. In addition, the facility will save the park over $400,000 in annual leasing fees. Framed by two large ponderosa pines, the building features wood construction, stone bases and gabled roofs designed to blend with the buildings inside the park.
A ribbon cutting and dedication is planned for Wednesday, May 28 at 11:00 AM.
The Bryce Canyon Shuttle operates daily from May 23 to September 28. Riding the shuttle is voluntary and reduces traffic and congestion in crowded parking lots, conserves fuel, reduces our carbon footprint, and saves time and money. For more information, please visit the park's website at: www.nps.gov/brca or call 435-834-5322.