Hike The Hoodoos Challenge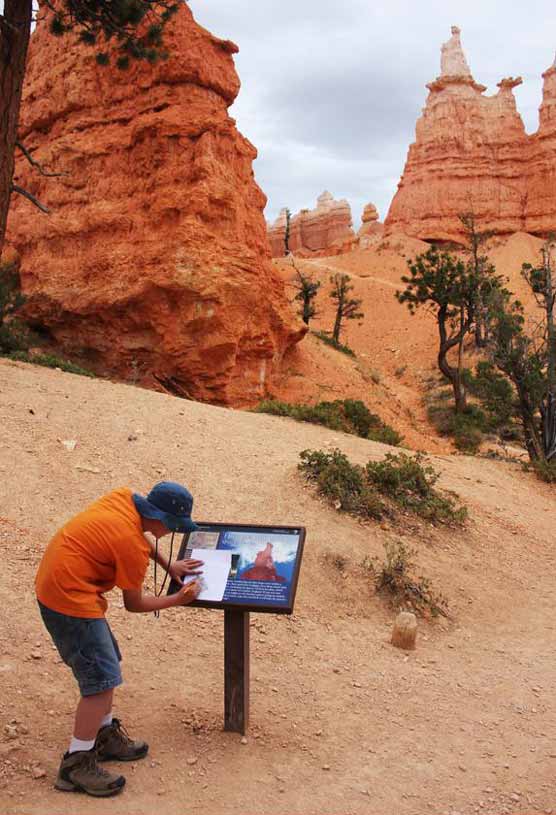 News Release Date:
September 7, 2012
Contact: Kathleen Gonder, 435.834.4740
Visitors Enjoy "Hike the Hoodoos!" Challenge
 at Bryce Canyon National Park
To encourage visitors to stay healthy while having fun, Bryce Canyon National Park has developed a new activity called "Hike the Hoodoos!" Part hike, part scavenger hunt, visitors must hike at least 3 miles on specially-marked trails and find "Hike the Hoodoos" benchmark survey markers along the way.
Visitors may either obtain rubbings of the benchmarks, or take pictures of themselves with the benchmarks, to prove they hiked the required distance. Upon showing their rubbings or photos to the visitor center ranger, they are then presented with a special reward.
There are nine "Hike the Hoodoos!" benchmarks located along eight different hiking trails in the park. Although only 3-miles of hiking (and finding benchmarks) are required to earn a reward, some visitors are opting to attain rubbings/photos of all nine benchmarks - for a total of 18.4 miles of hiking! Quite an accomplishment, indeed!
Not only is the - Hike the Hoodoos!" program proving to be wildly popular, but this activity complements First Lady Michelle Obama's "Let's Move!" Initiative - dedicated to solving the problem of childhood obesity by encouraging kids and their families to eat healthier and exercise more.
As part of the - Let's Move!" Initiative, the Department of Interior has created "Let's Move Outside!" - which encourages kids and their families to take advantage of America's Great Outdoors by engaging in outdoor activity that gets hearts pumping and bodies moving.
Says National Park Service Director, Jon Jarvis, "National parks are amazing places where exercise is disguised as adventure, and we sneak in some learning, too!"
The "Hike the Hoodoos!" program was made possible, in part, by a grant from the National Park Foundation through the generous support of the Coca-Cola Foundation.
Last updated: June 17, 2023