Date:
June 3, 2009
Contact:
Dan Ng
, 435.834.4400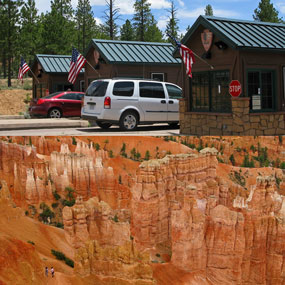 Bryce Canyon National Park Will Waive Entrance Fees on Three Summer Weekends
Secretary of the Interior Ken Salazar announced that the National Park Service will offer three fee-free weekends this summer to encourage Americans seeking affordable vacations to visit these national treasures. There are 391 national parks located across the country in 49 states. "During these tough economic times, our national parks provide opportunities for affordable vacations for families."
"National Parks also serve as powerful economic engines for local communities and we hope that promoting visitation will give a small shot in the arm to businesses in the area," he said. The 147 National Park Service sites across the country that charge fees for entry will waive these entrance fees during the weekends (Saturdays and Sundays) of:
June 20-21, July 18-19, and August 15-16, 2009
"Tourism income helps America's economic recovery," Salazar said. "National park sites in the Great Lakes states, for example, attract 8 million recreation visits a year that bring $211 million into the local economies. Spending by visitors from out of the area supports 4,400 local jobs. So these areas need to maintain and expand this vital tourism."
Meanwhile, many park partners including tour operators, hotels, restaurants, gift shops, and other vendors will offer additional discounts and special promotions on those dates. More information on the fees and discounts can be found at https://www.nps.gov/findapark/feefreeparks.htm.
Xanterra Parks and Resorts, concessionaire for Bryce Canyon, will offer a Neighbors Discount to Utah residents residing in Garfield, Kane, Iron, Washington and Sevier counties. Just show your ID (with address) to the cashier for a 20% discount on retail items and dining during these three weekends. Groceries, sundries and lodging are not included.
Bryce Canyon National Park will waive the $25 entrance fee during the three fee-free weekends. The entrance stations will be staffed to provide maps, information and sell annual park passes. The waiver does not include other fees such as camping. As these weekends may be extra busy with traffic and parking congestion, visitors are encouraged to ride the park's free shuttle.