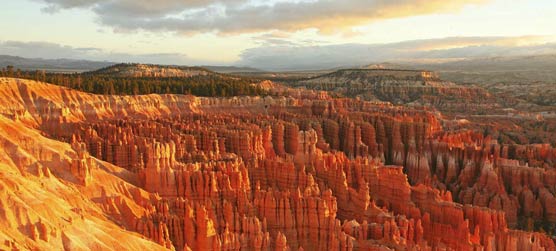 News Release Date:
April 22, 2010
Contact: Dan Ng, 435.834.4740
NATIONAL PARK FOUNDATION BRINGS STUDENTS ACROSS COUNTRY INTO
BRYCE CANYON NATIONAL PARK THROUGH ELECTRONIC FIELD TRIP
May 18th field trip will highlight unique geological history of Bryce Canyon National Park
Free program is a special value for many schools which have faced difficult budget cuts
WASHINGTON, D.C. (April 13, 2010) – The National Park Foundation is inviting schools across the country to explore the unique geology of Utah's Bryce Canyon National Park in an Electronic Field Trip (EFT) on Tuesday, May 18th, 2010. The program, which includes interactive lesson plans and games leading up to the EFT, is free for participating schools and is targeted to elementary and middle school youth.
"The Electronic Field Trip to Bryce Canyon is turning one of America's most stunning national parks into one of America's most interesting and exciting classrooms," said Neil Mulholland, president and CEO of the National Park Foundation. "At a time when school budgets nationwide have been cut to bare bones, the National Park Foundation is proud to partner with the parks to connect students around the country to their parks – this is a tremendous free resource for both students and educators."
Free Registration and participation are an important value to schools and teachers as education budgets continue to shrink. For instance, in Utah, where Bryce Canyon National Park is located, the state education budget was cut by $9 million for next year, and no additional money was allocated for an additional 11,000 new students entering the school system.
The Bryce Canyon Electronic Field Trip will focus on the unique elements of the park—its geological and paleontological resources—which have been shaped and etched by millions of years of water, temperature extremes and plenty of additional natural dynamics. The program will consist of an hour-long live broadcast from Bryce Canyon and will offer participating students a chance to ask questions of park rangers and other experts, including the age-old question, "what's a hoodoo?"
An online curriculum including interactive games and lesson plans for teachers is available now to help students prepare for the event. The materials are available at www.brycecanyoneft.org.
To date, schools in 46 states and Japan, Canada, Germany, Cuba, Italy, and Switzerland have already signed up to participate in the program. Educators wishing to sign up to participate can visit www.brycecanyoneft.org
ABOUT THE NATIONAL PARK FOUNDATION
You are the part-owner of 84 million acres of the world's most treasured landscapes, ecosystems, and historical sites -- all protected in America's nearly 400 national parks. Chartered by Congress, the National Park Foundation is the official charity of America's national parks. We work hand in hand with the National Park Service to help connect you and all Americans to the parks, and to make sure that they are preserved for the generations who will follow. Join us – This is Your Land. https://www.nationalparks.org