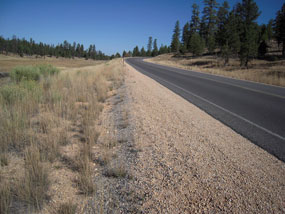 Wildlife Viewing Pullouts Project
The Wildlife Viewing Pullouts EA evaluates the beneficial and adverse impacts that the construction of five permanent viewing areas along the park's main road may have on the natural and cultural resources located in the area of the proposed project. By focusing on the effects of the construction of wildlife viewing pullouts on park resources, the environmental assessment provides information which will allow the park to better protect and conserve the existing natural and cultural resources for the enjoyment of present and future generations.
In January 2009, the park solicited help from the public in identifying issues associated with the development of wildlife viewing pullouts in the park and in developing alternatives to consider during the EA process. The National Park Service (NPS) used information gathered from the public; Federal, State and local agencies; and data generated by the NPS to complete the EA. The EA analyzes Alternative A - a no action alternative, Alternative B - the agency's preferred alternative to construct five wildlife viewing pullouts, and Alternative C - a modified version of the action alternative that reduces the number of wildlife viewing pullouts constructed to avoid impacts to the federally listed Utah prairie dog.