News Release
Celebrate art and inspiration at Bryce Canyon National Park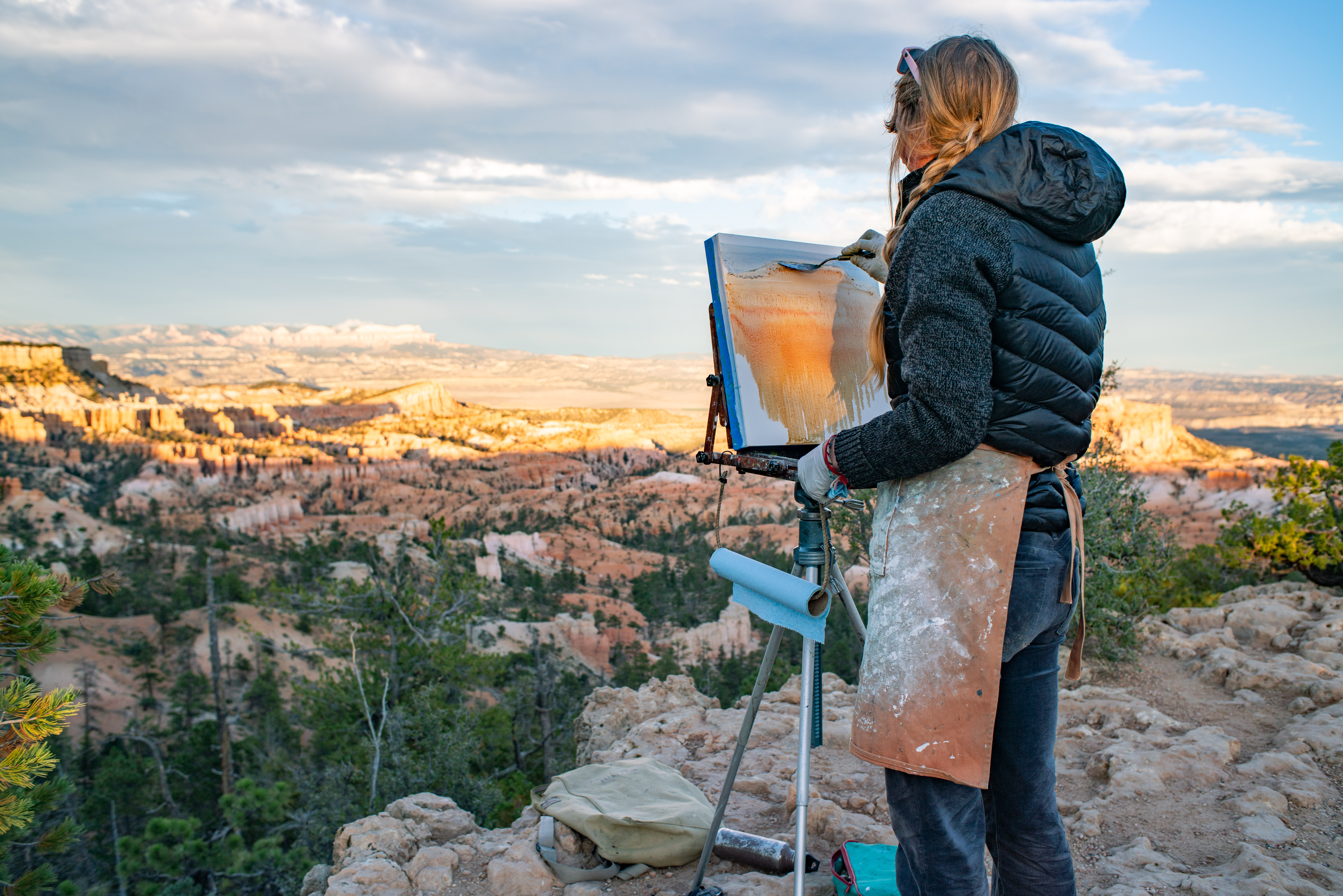 News Release Date:
August 18, 2023
Contact: Peter Densmore
Come celebrate 100 years of Bryce Canyon beauty and inspiration with a day of art in the park on September 18. In celebration of the park's centennial year, Bryce Canyon is hosting a plein air "paint out" and linocut printmaking workshop in collaboration with Escalante Canyons Art Festival.

From 9 a.m. to 12 p.m. festival artists and park visitors are invited to Sunset Point for plein air painting alongside the 2023 Grand Staircase-Escalante National Monument Artist-in-Residence Melody Greenlief. 

Bryce Canyon visitors of all ages are welcomed to enjoy plein air works-in-progress, and free art supplies will be available for those inspired to paint along. Plein air artists participating in the festival should stop by the Escalante Community Center on September 16 or 17 to register and pick up a park entry fee waiver.

From 1 p.m. to 4 p.m., a special linocut printmaking workshop will be held with artist Kadi Franson at the High Plateaus Institute at Sunrise Point.

Workshop participants will learn how to print a mono-color linoleum block print from start to finish. The workshop is designed for all skill levels, and beginners especially are encouraged to register. All material costs are covered by the $46 workshop fee and participants will leave with their carving kit and linocut print.

The linocut printmaking workshop will be held in the park's original ranger station, which was built in 1932 near Sunrise Point. It now functions as the High Plateaus Institute, which aids the interpretive, educational, and scientific activities of Bryce Canyon National Park through the support of its philanthropic partner the Bryce Canyon Association.

"No celebration of Bryce Canyon's centennial would be complete without a day dedicated to the art and creativity this place inspires," said park spokesperson Peter Densmore, "We're very excited to welcome everyone's inner artist to the park, and for the opportunity to collaborate with the Escalante Canyons Art Festival."

To sign up for the special linocut workshop or participate as an artist in the Escalante Canyons Art Festival, please visit www.escalantecanyonsartfestival.org.

2023 marks 100 years since Bryce Canyon was first set aside for protection, and celebratory events are planned throughout the year. Learn more at www.brycecanyon.org.
Last updated: August 18, 2023