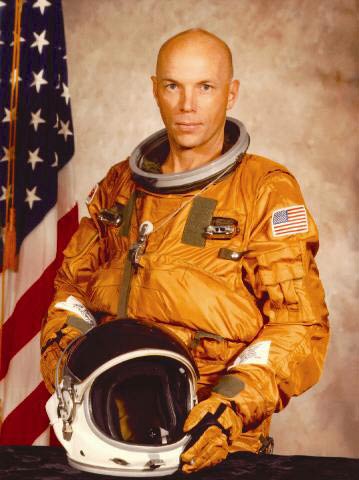 News Release Date:
June 11, 2008
Contact: Kevin Poe, 435.834.4412
Astronaut Story Musgrave to Speak at 8th Annual Bryce Canyon Astronomy Festival
Bryce Canyon National Park Superintendent, Eddie Lopez, invites you to join Bryce Canyon's "Dark Rangers" and amateur astronomers from the Salt Lake Astronomical Society for the Eighth Annual Bryce Canyon Astronomy Festival. This year's festival will be held June 25-28.
"Head Dark Ranger," Kevin Poe, puts it this way: "2008 is going to be the 'mother of all astronomy festivals'! Not only do we have the darkest skies and the best telescopes and telescope operators, but this year, we have one of the planet's greatest astronauts!"
This year's festival will feature keynote speaker, Story Musgrave, one of NASA's most celebrated astronauts. As a U.S. Marine, Space Shuttle Astronaut, medical doctor, and heroic repairer of the Hubble Space Telescope, Musgrave's unique perspective of the universe is vast and diverse. Yet, during his cumulative 1,280 hours in orbit, Musgrave spent most of his free time glued to a window savoring the beauty of Mother Earth as viewed from Space. Don't miss this rare opportunity to hear a legend tell, in his own eloquent words and with stunning photography, the saga of the Hubble Space Telescope, and what it's like to see Earth from Space.
Musgrave's program will be held Wednesday, June 25, from 8:30pm-9:45pm in the Triple-C Arena, at 50 East 900 North in Panguitch, Utah. Tickets are $2 per person, or $5 per family, and will be sold at the door. Following the indoor presentation, free stargazing with telescopes will be provided outside the arena, courtesy of the Salt Lake Astronomical Society and the "Dark Rangers" of Bryce Canyon.
The Astronomy Festival will also feature afternoon workshops covering such topics as rocket building and launching, learning the night sky using planispheres, safe solar viewing, children's art contest exhibition, and walks along a scale model of our solar system. In the evenings, join "Dark Rangers" and guest speakers for presentations on topics related to astronomy and nocturnal animals, before venturing out into the night to stargaze under Bryce Canyon's famous dark skies. Over 50 telescopes, most of them huge, will be available for viewing after the presentations.
Throughout the festival, the Bryce Canyon Shuttle will provide free transportation to and from program venues within the park. Additionally, special shuttles will travel between Bryce Canyon City and the Triple-C Arena in Panguitch for attending Story Musgrave's program. Reservations are required for the special Panguitch shuttle. Contact the Shuttle Boarding Area at Ruby's Inn for reservations and information (435-834-5290).
NASA's Solar System Ambassador, and arguably Utah's most famous sky watcher, Patrick Wiggins, proclaims, "I've been to zillions of these star parties and nobody does it like Bryce Canyon! Not only are their skies darker than anywhere you'll travel, but you don't have to be a rocket scientist or astronomy geek to have a blast!"
Other than Story Musgrave's presentation, attendance is free to all Bryce Canyon Astronomy Festival programs with payment of the park entrance fee, $25 per car, good for 7 days.
Hope to see you there!