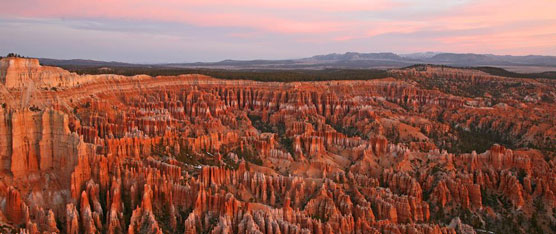 News Release Date:
April 3, 2009
Contact: Dan Ng, 435.834.4400
Bryce Canyon National Park Prepares for the 2009 Summer Season
In preparation for the approaching summer season, the Bryce Canyon Visitor Center will be open from 8:00 AM – 6:00 PM starting on April 5th and expanding to 8:00 AM – 8:00 PM on May 10th. At the Visitor Center you can plan your visit with information on hiking, attractions and interpretive programs. An award-winning 22-minute video, Shadows of Time, and museum exhibits provide an orientation to the park's natural and cultural features. The Bryce Canyon Natural History Association operates from the Visitor Center selling books, publications and gifts to make your stay more enjoyable.
The Bryce Canyon Lodge opened April 1st for lodging, food service and gifts. Horse rides down into the canyon also opened April 1st. The General Store at Sunrise Point will open on April 10th. Ranger-led programs will start on May 10th and include geology talks, rim walks, canyon hikes, children's programs, evening programs and astronomy programs followed by telescope viewing.
Entrance fees are $25 per vehicle and good for seven days in Bryce Canyon National Park. Camping fees are $15 per night to camp in the park's campgrounds. Sites in North Campground are currently available with additional sites opening up as weather permits. The park's free shuttle bus service will begin on May 22nd operating from 9:00 AM – 6:00 PM daily. The shuttle staging area (restrooms, parking, and offices) is located just north of the park's entrance across the road from Ruby's Inn. Buses run at regular intervals with stops at Ruby's Inn, the park's Visitor Center, Bryce Canyon Lodge and General Store, campgrounds and at Sunrise, Sunset, Inspiration and Bryce viewpoints.
Although temperatures are warming up, visitors are reminded to prepare for possible snowy conditions, icy roads, and muddy trails. Currently the northern end of the park has patches of snow, but trails and roads may be temporarily closed due to weather. When hiking in the park, be sure to wear hiking boots, carry water and adequate sun protection. The park's 8,000 feet elevation requires extra effort in the thin air.