Date:
December 18, 2009
Contact:
Larry Thrower, 435.834.5322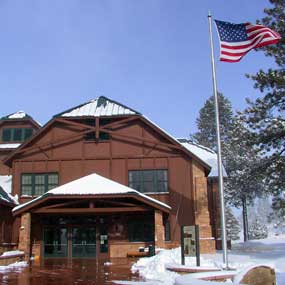 Holiday Closure of Visitor Center at Bryce Canyon National Park
The Bryce Canyon National Park Visitor Center will close at 12:00 PM Thursday December 24, 2009 and reopen at 8:00 AM Saturday December 26, 2009.
The Bryce Canyon Visitor Center is open from 8:00 to 4:30 daily throughout the winter except as noted. The orientation film is shown upon request. The Bryce Canyon Natural History Association bookstore sells a variety of maps, calendars, fun games and other items of local interest that would make excellent holiday gifts.
For more information, please contact Bryce Canyon National Park at 435-834-5322.