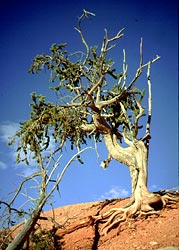 General Description:
Bristlecone Pines (
Pinus longaeva
and
Pinus aristata
) are among the oldest living organisms on earth. Clone-creating plant species like
Quaking Aspen
live to be much older if you age their root systems. Bristlecones are only found in six states, Utah included. The oldest LIVING tree is called "Methuselah" and is 4,765 years old. This tree is nearly 1,000 years older than any other bristlecone alive today. It lives in a secret location in the White Mountain range of eastern California. The oldest known tree named "Prometheus" was cut down in 1964 by a doctoral student. He was studying climate change as expressed in receding glaciers whose historic size could be measured by influence on the growth rings of nearby ancient bristlecones. This happened in what is now known as Great Basin National Park. The tree was later confirmed to be almost 4,900 years old.
Bristlecones have 5 needles per fascicle, and can grow to be 40-60 feet in height (under most favorable conditions.) Often they will die in portions. As the roots become exposed they will dry out and die. The tree directly connected above those roots will eventually die as well. The remainder of the tree will continue to live. This is among the causes that create the twisted tortured look of the trees. It also may prompt the question "why do they take so long to die?" as opposed to "why do they live so long?"
Bristlecone pine is also known as "Wind Timber", "Hickory Pine", "Krummholz" and "Foxtail Pine." It is a member of the group of pines known as foxtail pines, because of the shape of the branches and the way the needles stay attached all the way up the limb. The limbs look like small foxtails.
In recent decades, two species of bristlecone have been distinguished.
Pinus longaeva
is called the Great Basin Bristlecone.
Pinus aristata
is the Rocky Mountain Bristlecone. The biological distinction is based on the numbers of resin ducts per needle, which are difficult to see even with a powerful hand lens.