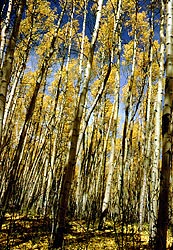 General Description:

Aspens can be identified by their smooth, white bark marked by black scars where lower branches are naturally self-pruned. Quaking Aspen leaves are somewhat heart shaped, with finely saw-toothed margins and range in size from 1.25-3" (3-8 cm) long. The leaves attach to branches via a long and flattened petiole, so that even the slightest breeze causes the leaves to flutter. This gives the overall tree the appearance that it is quaking or trembling - hence the common name Quaking Aspen and the scientific name's specific epithet - tremuloides. In the spring and summer, leaves are glossy green on the upper surface and dull green underneath. In the fall leaves turn yellow, gold, and in rare instances, even red. Quaking Aspens grow in large and dense colonies throughout North America enduring lows of -78° F and highs of 110° F. They prefer moist soil, but can grow near intermittent springs in desert environments that receive less then 7 inches of annual precipitation. The only absolute requirement for Quaking Aspen is lots of sunlight.
Quaking Aspens are often confused with birch trees. Although aspen are somewhat similar in appearance to some species of birch, birch trees belong to an entirely different family of trees. Birch are famous for having bark that peels back like paper; aspen bark does not peel. Whereas aspen leaves are perfectly flat, birch leaves are slightly "V" shaped and more elongated than Quaking Aspen leaves.