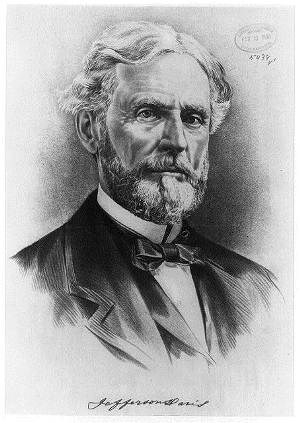 The senator from Mississippi stood in front of a crowd of Democrats in the "Cradle of Liberty" - Faneuil Hall. He was just starting his second term as a senator after completing a stint as Secretary of War. It was 1858 and the United States was tearing apart at the seams. The question of slavery had been an issue since 1787 when the United States Constitution was signed. In the 1850s, some called for the abolition of slavery while others began calling for secession. In front of a packed room he declared, "My friends, my brethren, my countrymen...I feel an ardent desire for the success of States' Rights Democracy...alone I rely for the preservation of the Constitution, to perpetuate the Union and to fulfill the purpose which it was ordained to establish and secure." Advocating for a States' Rights Democracy while disagreeing with the idea or need for secession in the same speech, Jefferson Davis sat down.
Born in what is now Todd County, Kentucky (and only about 100 miles from the birthplace of his famous contemporary, Abraham Lincoln), Jefferson Davis moved to Mississipi around 1810. He graduated from West Point Military Academy in 1828. By 1836 Davis was a plantation owner, and in the 1840s he owned over 70 slaves. He became involved in local Mississippi politics in the early 1830s, but really made a name for himself fighting in the Mexican-American War.
Using his new found fame, he was appointed a United States Senator from Mississippi in 1848, finishing out someone else's term. He used his new position to propose annexing more territoy from Mexico (which later became the Gadsden Purchase), as well as from Cuba for the expansion of "slaveholding constituencies." He resigned to run for governor of Mississippi on an anti- Compromise of 1850 platform and started to attend states' rights conventions. In 1853 he was appointed Secretary of War by President Franklin Pierce. His time during this appointment gave him a better perspective about the location of railway lines and the military strengths of the country - where the southern states were at a distinct disadvantage. Following his 4 years as Secretary of War, he was elected to a second term as senator for the state of Mississippi.
By this point, the country had nearly broken apart many times, mostly in 1850. The Compromise of 1820 and 1850 had put some band-aids on the wound, but like a virus the problems began to aggresively spread. The arguments between abolition vs. slave-holding, state's rights vs. a strong federal government were getting more frequent and more violent. These issues threatened to destroy the great experiment that was America. It is with this backdrop that Jefferson Davis spoke at a convention of Democrats in Faneuil Hall.