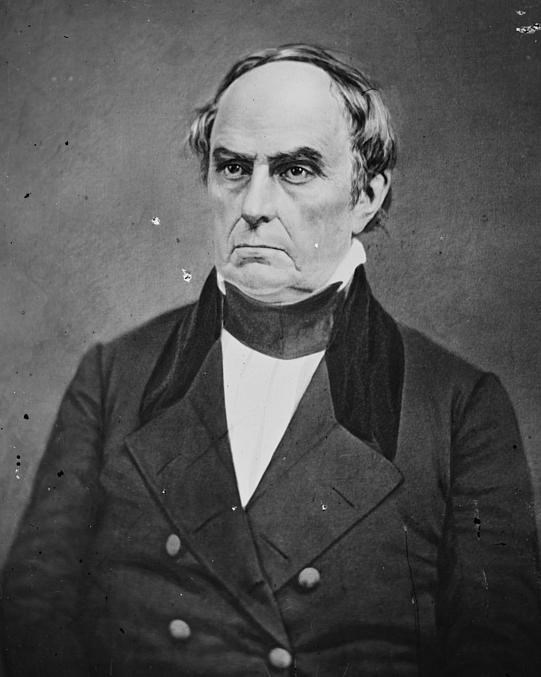 Significance:
Statesman, Orator
Place of Birth:
Salisbury, New Hampshire
Date of Birth:
January 18, 1782
Place of Death:
Marshfield, Massachusetts
Date of Death:
October 24, 1852
Place of Burial:
Marshfield, Massachusetts
Cemetery Name:
Winslow Burying Ground
Remembered as one of the most prominent statesmen and orators of the 1800s, Daniel Webster had an extensive fifty-year career. Webster argued in front of the Supreme Court, served in the U.S. Congress and the Senate, and held the position of Secretary of State.1
Born on January 18, 1782, Webster grew up in Salisbury, New Hampshire. Upon graduation from Dartmouth College, Webster practiced law in Boston, famously defending his alma mater before the Supreme Court in 1818. The landmark case for American corporate law prevented the state of New Hampshire from taking over Dartmouth and converting it into a public college.2
As a congressman for Massachusetts, Webster gave the oration at the cornerstone laying of the Bunker Hill Monument on June 17, 1825, the 50th anniversary of the battle.3 The Massachusetts House of Representatives recognized Webster's rising political prominence by electing him to the United States Senate in 1827. As senator in 1830, Webster delivered his most famous speech, a scathing rebuttal of Senator Robert Hayne and his home state, South Carolina, as the state attempted to nullify federal tariff law and threatened secession over the issue.4 A triumphant moment for Webster, this speech helped resolve the nullification crisis.5
Webster maintained this strong stance of preserving union at the expense of maintaining slavery for the rest of his career, even as the national debate over slavery became more and more contentious. After temporarily serving as Secretary of State, Webster returned to the Senate in 1845. His senatorial swan song came in 1850, as the Senate debated a compromise drafted by Henry Clay. Clay's compromise proposed to admit California as a free state but also pass a far more strict Fugitive Slave Law, putting those who had escaped from slavery to free states at risk of arrest by federal agents. On March 7, 1850, Webster put his political clout behind the compromise, and in a highly publicized speech stated:
... my friend at the head of the Judiciary Committee [James M. Mason] has a bill on the subject now before the Senate, which, with some amendments , I propose to support, with all its provisions, to the fullest extent... I put it to all the sober and sound minds at the North as a question of morals and a question of conscience. What right have they, in their legislative capacity or any other capacity, to endeavor to get round this Constitution, or to embarrass the free exercise of the rights secured by the Constitution to the persons whose slaves escape from them? None at all; none at all.6
Webster's support of the Fugitive Slave Law put every single formerly enslaved person at risk, and it permanently damaged his reputation in Boston, a city at the heart of the abolitionist movement.7 Despite this, Webster joined new President Millard Filmore's administration in the summer of 1850 as Secretary of State following President Zachary Taylor's death and the dismissal of his cabinet by new President Filmore.
Webster maintained this hardline position on slavery and union throughout his time in the cabinet. After an unsuccessful campaign for the 1852 presidential nomination, Webster retired to his country estate in Marshfield, Massachusetts. In October of 1852 Webster died from injuries he sustained after falling out of a carriage. His remains are interred in the Winslow Burying Ground not far from his Marshfield home.8
Learn More...
Footnotes
George Ticknor Curtis, Life of Daniel Webster (United States: D. Appleton, 1893), 5.
Curtis, Life of Daniel Webster, 163-169.
Curtis, Life of Daniel Webster, 248.
The crisis arose after South Carolina, interpreting the Constitution in a way which gave states the right to declare any federal law they disagreed with unconstitutional and therefore nullifying the law, attempted to nullify tariffs passed in 1828 and 1832.
The Spirit of America as Shown by Her Great Documents (United States: Old Colony Trust Company, 1920), 70.
Daniel Webster, "Speech of the Hon. Daniel Webster: On the Subject of Slavery. Delivered in the United States Senate, on Thursday, March 7, 1850" (United States: Redding, 1850), 26.
Henry Wadsworth Longfellow, Dante Alighieri, The Works of Henry Wadsworth Longfellow: Life of Henry Wadsworth Longfellow (United States: Houghton, Mifflin, 1891), 174.
George Stillman Hillard, "A Memorial of Daniel Webster: From the City of Boston" (United States: Little, Brown, 1853), 15.
Last updated: January 17, 2023