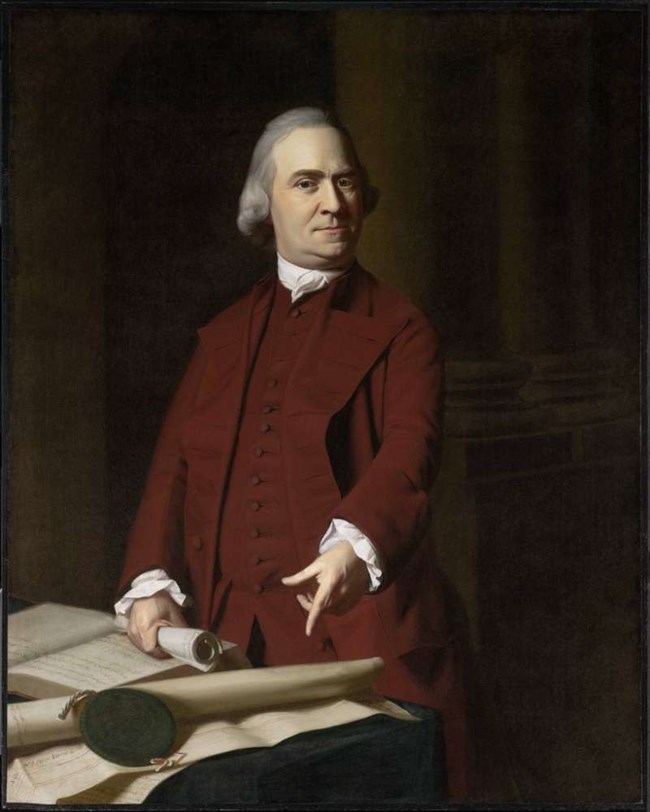 Radical? Virtuous Puritan? Demagogue? Perhaps all of these. When writing of his cousin Samuel Adams, John Adams would profess that he had; "the most thorough understanding of liberty"; was "zealous and keen in the cause"; and that Samuel embodied "steadfast integrity" and "universal good character."[1] Royal Governor, Thomas Hutchinson had a different perspective of Samuel Adams, claiming that there was not "a greater incendiary in the King's dominion or a man of greater malignity of heart who has less scruples any measure however criminal to accomplish his purposes."[2] Whatever one may think of Samuel Adams, it must be conceded that he was, above all else, an ardent patriot.
Adams' Beginnings
Samuel Adams was born on September 16, 1722 to Samuel Adams Sr. and Mary (Fifield) Adams in the family home on Purchase Street in the South End of colonial Boston. Both Samuel Sr. and Mary hailed from prominent Boston seafaring families and provided a comfortable and stable home for their children. The elder Adams was a successful malter and active participant in Boston politics. A firm believer in the Massachusetts tradition of self –government he regularly attended town meeting and served in the colonial legislature. The Elder Adams was also a member of the Boston caucus and a staunch defender of the Massachusetts Charter and Body of Liberties. Devout Congregationalists of old Puritan stock, the family worshiped regularly at the South Meeting House where Samuel Sr. served as deacon. Samuel Sr. clearly influenced his son both politically and spiritually by instilling in him the Puritan tenet of personal as well as civic virtue. The younger Adams would dedicate his life to upholding these ideals.
Young Samuel Adams attended Boston Latin School until entering Harvard College in 1736. It was at college that he truly began to formulate his political ideas. The Puritan tradition in New England placed great weight on the concept of covenant, an agreement based on mutual consent and mutual responsibilities. The Massachusetts Charter was considered such a covenant in that it created a government based on the consent of the people. For Adams, liberty and politics worked hand in glove. People could remain free only as long as they had a hand in the government that ruled them. The writing of Algernon Sydney and political philosopher John Locke would also have a great effect on young Adams thinking. He earned his undergraduate degree in 1740 and his Masters in 1743. For his thesis he argued; "Whether it be lawful to resist the supreme magistrate, if the commonwealth cannot be otherwise preserved?"
After his years at Harvard, Adams found himself somewhat adrift. In the 1740s he embarked on several unsuccessful career paths. He had considered a career in law but at the urging of his mother he sought employment in the counting house of merchant Thomas Cushing. The merchant life held no interest for Adams and he soon found himself unemployed. Cushing claimed that the young Adams was too preoccupied with politics. Eager to see his son succeed, Adams's father provided his son with a loan to establish his own business. The young man, having little grasp of personal finance and almost no business sense quickly flittered away the money and was put to work in his father's Malthouse. Cushing was correct; Adams true interest lay in politics. He would align himself with the "popular party", those citizens who opposed Parliament's infringements of the rights granted them in the Massachusetts Charter. He secured his first political position as a Clerk of the Boston Market in 1747. The following year he helped establish the political newspaper, The Independent Advertiser, and became a frequent contributor. The paper's aim was to "defend the rights and liberties of mankind." Unfortunately for Adams, the paper would not last a year.
The decade of the 1750s found Adams settling into the responsibilities of family life and beginning to establish his political career. Samuel married Elizabeth Checkley in 1749. "…she was a rare example of virtue and piety blended with a retiring and modest demeanor and the charms of elegant womanhood." Three years his junior, Elizabeth was the daughter of Samuel Checkley his pastor at the Old South Meeting House. The couple had six children, only two of which would reach maturity, before Elizabeth passed in 1757 due to complications of childbirth.[3] Distraught, Adams would immerse himself in politics.