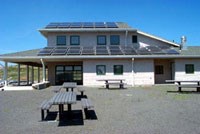 Solar Electric Power
The most prominent example of solar power in use is at the newly constructed Visitor Center on Spectacle Island. The building is oriented with a roofline facing south so a solar electric (photovoltaic) system could be installed with maximum solar gain. These photovoltaic panels produce enough energy to keep a small fleet of electric vehicles operational on the island as well as to send clean electricity to the electric utility company's power grid for use throughout the area.
There are several smaller photovoltaic installations on a few other islands. These are called "remote" or "stand alone" systems because they are not connected to the grid and have battery packs that store the electricity produced from the sun. Peddocks Island has had one of these systems since the mid-1990s.
The harbor islands are an excellent location for solar power because the low tree cover and flat areas between the islands allow for maximum duration of direct sunlight without shading. Several additional locations have been studied for photovoltaic systems that could be connected to the electric power grid. If these get installed they would produce enough energy to supply electricity to approximately 500 homes per year.