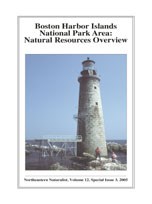 Northeastern Naturalist is a quarterly peer-reviewed and edited interdisciplinary scientific journal with a regional focus on northeastern North America, including Canada (ISSN #1092-6194). It is a publication of the Humboldt Field Research Institute at Eagle Hill in Steuben, Maine. Symposium proceedings and other themes are occasionally published as special issues, such as the Boston Harbor Islands issue.
Boston Harbor Islands: Natural Resources Overview
The 222-page special issue of Northeastern Naturalist (Volume 12, Special Issue 3, 2005) contains details on studies presented at the 2003 Boston Harbor Islands Science Symposium. (Full text available in BioOne database: individuals without membership may only view article abstracts.) Dr. Charles Roman, co-editor of the special issue, wrote, "This publication represents a good beginning in understanding the natural systems of the islands and will assist island managers in making scientifically-informed decisions about natural resource protection."
Dr. Edward O. Wilson, keynote speaker at the 2003 Symposium, leads this special issue with some insightful comments on opportunities the Harbor Islands offer for investigating the related concepts of biodiversity and island biogeography. The contributed papers begin with descriptions of the islands' historic vegetation and landscape processes as understood through analysis of historical accounts from the 1600s to present (Richburg and Patterson), and by detailed paleoecological interpretation of a deep sediment core (Patterson and others).
Human influence has been obvious in shaping island landscapes within a region with over three centuries of urban development. Several contributed papers provide inventories of specific taxonomic groups including vascular plants (Elliman), lichens and bryophytes (LaGreca and others), macrolepidoptera (Mello), and birds, including waterbirds, landbirds, and shorebirds (Paton and others). Detailed descriptions and maps of the extensive intertidal marine habitats associated with the islands are presented by Bell and others.
The final manuscript addresses the topic of visitor carrying capacity (Manning and others), a topic that is perhaps unique for a natural history journal like Northeastern Naturalist but highly relevant to planners and resource managers as protection of the islands' natural resources is pursued. In fact, authors of all the papers in this issue discuss the specific relevance of their findings to the protection and restoration of island natural resources.
As additional inventories are completed, research projects pursued and long-term monitoring programs initiated, the natural resource database for the park will grow. The National Park Service is developing a long-term environmental monitoring program for all coastal park units throughout the northeastern US, including Boston Harbor Islands. A suite of physical, chemical and biological indicators and currently being identified and tested with the aim of providing managers with early warning of emerging issues and problems that may require intervention. These and many other studies, projects, and long-term activities will hopefully be the focus of future volumes about the Boston Harbor Islands national park area.
The National Park Service (NPS) has taken the lead for the Boston Harbor Islands Partnership in facilitating natural resource studies in the national park area, and produced the special issue of the Northeastern Naturalist. Co-editors of the special issue are both with NPS: Dr. Charles Roman, North Atlantic Coast Cooperative Ecosystem Studies Unit at University of Rhode Island; and Bruce Jacobson, Boston Harbor Islands National Recreation Area. Each manuscript was also assigned a guest editor with the responsibility of coordinating numerous anonymous peer reviewers. Funding for the special issue was provided by the Massachusetts Environmental Trust and The Harold Whitworth Pierce Charitable Trust, among others, through the Boston Harbor Island Alliance.