About Us
PAST AND PRESENT MEMBERS OF ISLAND AMBASSADORS AND GREEN CORPS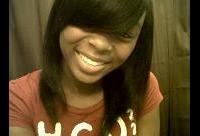 I am a senior at East Boston High. My hobbies include helping others, learning new things, dancing, modeling and fashion design. As a volunteer I've cleaned the streets of Boston, served food at a homeless shelter, and mentored freshmen at my school. I'm willing to do anything I can to make the environment a better place for myself and others. This is important to me because a lot of people don't know how harmful some of the things they do are to the environment, and i feel that I can make a difference just by doing my part.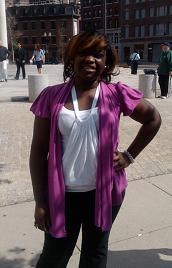 Green Corp is a wonderful team to be a part of. It's more than just a group of teenagers working together; it's a community and a family. The reason why I chosed to work at Green Corp is to learn more about the outside world, to become more successful in business wise and to meet new people. What I like about Green Corp is that it's a place and a group where you can come to work happy all the time even if you're working outside in 90 degree weather you may be hot but you won't notice because you're laughing and singing songs with your peers. I've worked with Green Corp for four years and every year I learned something new or meet a new friend.
Hi I'm Andy and I was an Island Ambassador when I was a freshman. I really liked this job because it was a bunch of kids with something to say about the environment and what we could do to improve it. What we did for this job was help the islands and other places control the invasive species growth. To do this we pulled invasive species such as bittersweet and phragmites. We also did many projects with them like make paper and a "Bumpkin" sign. One of the things I really enjoyed was shadowing Rangers. We got an insight on what they do and how they also contribute to the islands. All in all, this was a great experience.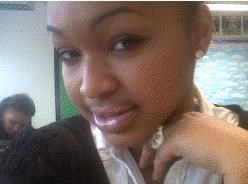 Hello, my name is Vanessa Correia! I was introduced to Thompson Island school courses at the John W McCormack Middle School. I was in the 7th grade when I did Choices (5day course). At the age of 13, after I completed Choices, I was interviewed for a job position for the summer. I started Green Corps and became intrigued with the program. I wanted to learn more about the outdoors, about Thompson Island, and about all the other Harbor Islands. I worked at Green Corps for five years. I am now 19 years old. I am a part of the Green Ambassadors, which is a group of students who were part of Green Corps or Island Ambassadors and came together as one solid group to make a difference in our Boston Harbor Islands.The people I have met throughout the years of working out on Thompson Island, the passion of learning more about the Island and just the thought of growing up on the Island is what keeps me coming back to Green Corps every year.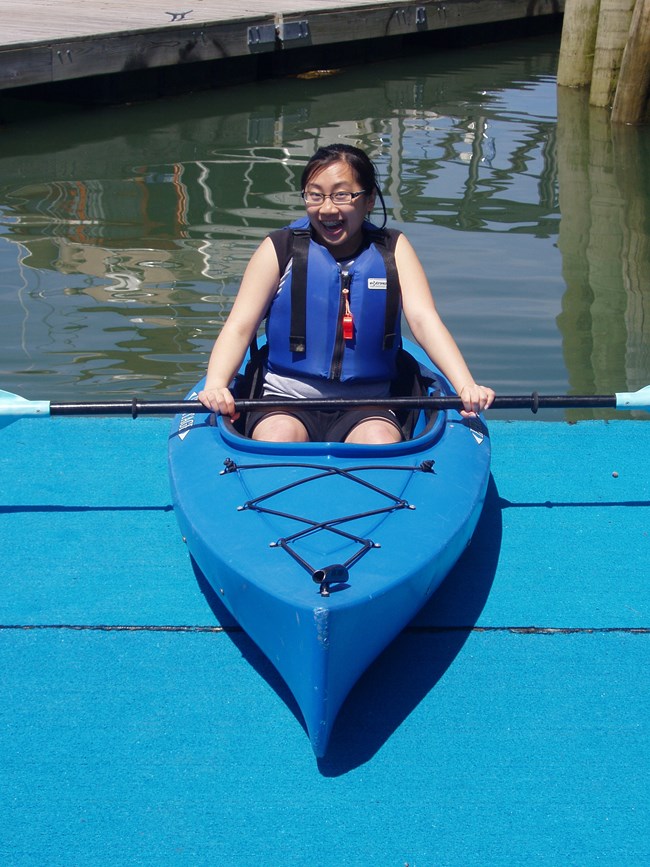 Victoria Luu has harbored a lifelong love and passion for nature and the environment. As a hard-working, driven senior currently attending Boston Latin School, Victoria is already a very active member of her community. She is a volunteer at the New England Aquarium in the Visitor Education department and at MSPCA Angell, the local animal shelter. Victoria is striving to help build a stronger sense of community in her local neighborhood, especially among the youth.
She first became an Island Ambassador for Boston Harbor in her junior year in hopes of teaching younger groups to love the environment as much as she does. As an Ambassador, she uses her networking and experiences to help promote environmental awareness and environmental justice. Victoria has recently taken on the position of a web manager for the Ambassador group, but has still stayed very involved in the work of the Ambassadors as well.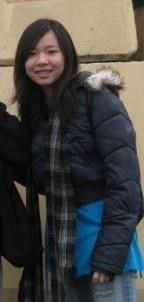 Winnie Chen, a Latin Academy junior, has a strong passion for arts and crafts, and writing. She is currently in the art club at school and takes English Honors to further these passions. She loves working with people of all ages. As a volunteer, she has tutored fourth graders and served the elderly. She finds volunteering very beneficial and she learns a lot from it. In her free time, she enjoys writing short stories online. Winnie loves animals especially dogs. Her future goal is to be a veterinarian.
During the Boston Harbor Island Ambassadors Program she has learned a lot more about the history and importance of parks and islands. She also has greatly improved her leadership skills and contributed ideas and creativity to the program. Winnie has taken the initiative this year to learn the process of applying for grants and hopes to use these skills to help the Ambassadors program progress.
Chanel Wilson Woodbury is a senior at Monument High School. In the future she plans to study computer software at a university. Chanel thinks of herself as someone who is willing to help people in need. Last summer, she taught kids about internet safety at Boston Public Library's Tech Boston. In her spare time, Chanel likes to play basketball, and chill with friends. One of Chanel's earliest outdoor experiences was a camping trip to Maine where she learned about rock climbing, building a fire, and water rafting. Chanel is excited to be an Island Ambassador because she can learn about the area where she lives and because the program benefits the community and the environment.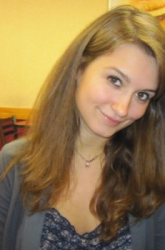 During my senior year of high school, I was encouraged by my guidance counselor to apply to the Boston Harbor Island Ambassador (back then B.E.A.N.) because of my interest in the environment and the National Park System. I got to work with the other students on creating educational activity kits and going to community centers around Boston to show inner-city kids and their educators how to use them. We also designed presentations about the activities of our program and represented the youth aspect of the Island Alliance at conferences and meetings.
It was through the Ambassador program that I received a grant to go on an Earthwatch Institute trip to Trinidad to volunteer in a marine sea turtle conservation mission, which has been one of the most rewarding opportunities of my life. It was also through the Ambassador program that I found a biodiversity project internship in the Entomology Department of the Harvard Museum of Comparative Zoology, where I continued to volunteer and then work for two years after the program ended.
It was the Ambassador program that gave me the opportunity to help design and produce the PredatORPrey educational card game, which has been widely distributed to local schools, community centers and to general public through the program's outreach events. The Ambassador program has had profound affects on my life which still resonate now, years after being in the program.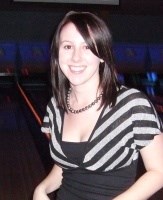 In my senior year of high school, I was encouraged by my school's PIC counselor to apply for the BEAN program due to my interest in Environmental Science. In the program, I worked with other Boston teens to develop educational activities concerning the Boston Harbor Islands and environmental issues, and presented these activities through community outreach to local elementary schools. I also participated in various stewardship programs and even attended several conferences where I represented local youth as well the islands with other members of the program.
Upon graduating from high school and finishing the BEAN program, I became a seasonal park ranger with the National Park Service at the Boston Harbor Islands, and have been employed there every summer.
As a park ranger, I continue to be involved with the BEAN program through participating in various activities with the Island Ambassadors, such as invasive plant removal and invasive marine monitoring.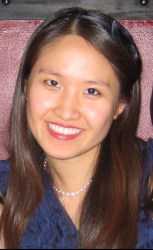 Luck always seems to be on my side when I need it the most.
I first heard of the Island Ambassadors Program as a sophomore in high school. I had no idea that my experience in the program would extend to so much more work with the Boston Harbor Islands National Park Area and ultimately shape my studies and career goals.
What I loved most about the program was its flexibility to my interests and how everyone associated with the program was so eager to introduce me to new career fields. Not only did this help me learn about the Park Service, but it helped me learn about myself and prioritize my interests. Island Ambassadors was the launching spot for my work later with the National Park Service and Department of Conservation and Recreation because it exposed me to many areas of interest including community development, environmentalism, politics, and business. I would have never thought to work as a Park Ranger for two summers if it were not for the Island Ambassadors program, (and I would probably have never gotten the position either.) And if I didn't, I would have never gotten as much professional work experience or developed as much confidence and public oratory skills as I fortunately did. I also do not think that my studies at Harvard would have been as solidified if I didn't have prior experience with the Island Ambassadors Program.
I am currently an Environmental Science and Public Policy major with future career aspirations of environmental technology management and development. So much of my academic and personal life has been positively structured by the Island Ambassador's Program. The relationships with the wonderful mentors that I found at every desk in the offices and on the islands that I worked on, really helped guide me during a time when I was confused and stressed about my academic future. No organization has provided as much support and encouragement as the people who encouraged me, wrote recommendations for me, and guided me.
I still feel a sense of pride and excitement every time I go back to visit the Boston Harbor Islands.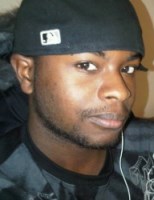 I joined the Island Ambassadors because I was very interested in learning about the Boston Harbor Islands and I LOVE the outdoors! Also, after learning about the islands, we made lesson plans to teach to local community centers and schools. I enjoyed playing the games with the kids and seeing the looks on their faces as they learned about the different islands. One of the best parts of this job, was actually going out to see most of the islands. It was so cool!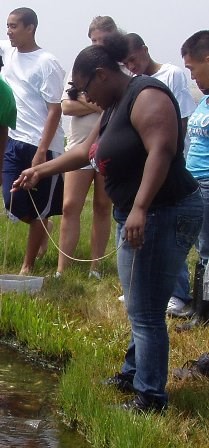 Tomeka Baker is currently a college freshman, with much community experience in her previous high school. As a student she has taken on many responsibilities and joined many clubs and groups as well. In high school, Tomeka had taken it upon herself to start a student government, as well as being part of the year book committee, prom committee, and many other school programs. Tomeka takes her responsibilities very seriously, but when things get too overwhelming she looks to the outdoors to keep her focused. Most of all Tomeka enjoys spending her time outside in the fresh air. Nature helps her to mellow out and just relax. She loves watching the water flowing, trees blowing, and leaves blowing in the wind. According to Tomeka, being in nature is the best place to be.
Tomeka has taken on the role of a peer leader with the Island Ambassadors and works closely with the Ambassadors on scheduling and recruiting new participants. She is currently working with the Ambassadors to interview the new applicants and to help introduce them to the Boston Harbor Islands.
Last updated: February 26, 2015