The Graves Light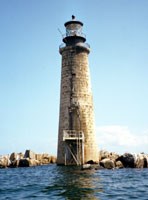 The most recent navigational aid in Boston Harbor of historical significance is The Graves Light, completed in 1905. An iron bell buoy had been placed near The Graves ledges in 1854, later replaced with a whistling buoy. But it was the opening of the Broad Sound Channel at the beginning of the 20th century that necessitated a lighthouse on those ledges.
Congress appropriated funds for the light in 1902 and construction began in 1903 under direction of Royal Luther of Malden. The design of The Graves Light was very similar to that of Ram Island Ledge Light in Maine, which was built at about the same time—a slightly tapering conical tower of granite, the first 42 feet filled with concrete except for a central cistern, and then, above the entrance reached by a 30-foot exterior ladder, five levels, which were, in ascending order: landing and storage, engine room and fog signal, kitchen, keepers' beds, and library and watch room. On top of these was the lantern, making the tower 113 feet high overall.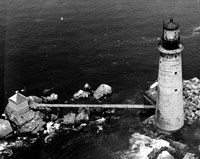 Granite for the light came from Rockport and was transported to The Graves via Lovells Island. During the summers of 1903 and 1904 workers lived in a shanty built on the highest part of The Graves ledge. The tower was completed in 1905, the same year a granite oil house was built 90 feet south of the tower, accessed via a footbridge (see right). A huge first-order Fresnel lens, 12 feet high and 9 feet in diameter—the most powerful light in Massachusetts—was installed in the lantern, and the lighthouse went into operation on September 1, 1905.
The Graves Light was automated in 1976. The Fresnel lens was reportedly removed at that time, and is now in storage at the Smithsonian. Power was supplied by an underwater cable running from Hull, Massachusetts—except between 1981 and 1983 when the cable was damaged and a generator was used to provide power. The cable was damaged again in March 2001, and the light converted to solar power three months later.
Prepared by Nancy S. Seasholes, 2009
---
* D'Entremont, Jeremy. Graves Light. New England Lighthouses: A Virtual Guide. 2007.
Additional information
.
Last updated: February 26, 2015