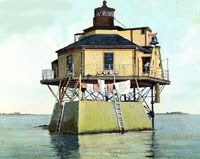 Narrows (Bug) Light

The Narrows, or Bug, Light no longer exists, but when it did it was certainly part of the lore and therefore the historical context of navigational aids in Boston Harbor.
The Narrows Light was located at the end of the spit that extends southwest from Great Brewster toward Lovells, ending at the entrance to the Narrows, once the main channel into the inner harbor. In 1854, under the U. S. Lighthouse Board, Congress appropriated funds for a lighthouse in that location. Built by Harrison Loring, a South Boston shipbuilder, it was a hexagonal wooden dwelling on seven iron screwpile stilts. The dwelling was surmounted by a lantern with a sixth-order Fresnel lens, and a fog bell with striking mechanism was attached to the side of the house. The structure was about 35 feet high and the overall impression was of a long-legged water bug, hence its nickname. The lighthouse went into operation in 1856. A wider gallery, or porch, and new outer stairs, which appear in many historical photographs, were added in 1891 (D'Entremont 2007l).
The demise of Bug Light occurred on June 7, 1929. The keeper was removing paint from the dwelling with a blow torch when the entire structure caught fire and was completely destroyed. A gas-operated lighted bell buoy was immediately placed at the site, replaced with an automatic light and fog bell on the remaining base of the lighthouse, and finally with the automatic light on small steel skeleton tower that exists today (D'Entremont 2007l).
Lovells Buoy Station

In 1874 the U. S. Lighthouse Board established a buoy station on the west side of Lovells. Although not a navigational aid itself, the station stocked replacements for the bell, whistle, and other types of buoys used in the harbor (Sweetser 1988 [1888]:188). The station closed in 1912, and remains of the wharf associated with the station still exist (Department of Conservation and Recreation 2005).