Long Island Head Light
A lighthouse was constructed on Long Island Head, at the entrance to the harbor after leaving the Narrows. The location is probably why the Boston Marine Society recommended a lighthouse for the site in 1818. It was built by the federal government the next year, going into service on October 9, 1819. This first lighthouse was east of the present one and was a 20-foot-tall stone tower capped by a seven-foot lantern with a soapstone roof. Its fixed light was produced by 10 lamps with reflectors. A stone keeper's house was attached to the tower.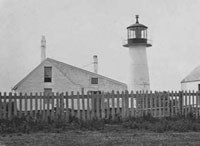 Like many other lighthouses, Long Island Head Light deteriorated during the Auditor Pleasonton's administration. An 1842 report said the tower walls were cracked and leaky and that much of the illumination from the light was obstructed by its framework. In 1844 the tower was replaced with a cast iron lighthouse—the first in the country—made by the South Boston Iron Company, the same firm that manufactured the 1844 iron improvements at Boston Light. The new Long Island tower was 34 feet high, assembled from cast iron sections, each about seven feet high, that were surmounted by a 16-sided four-foot-high lantern capped with an iron roof. The original keeper's house was apparently retained—an undated photograph shows a large clapboard-sided addition along one side with the roof extending to the ridge line of the original roof (see left).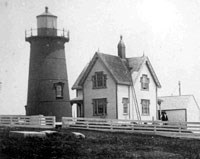 Under the U. S. Lighthouse Board a number of changes were made to Long Island Head Light. A fourth-order Fresnel lens replaced the old lamps in 1857. Many repairs were made in 1863 and again in 1869 after storms had damaged the keeper's house and boathouse. Then, in 1881, the entire 1844 tower was replaced with a new one of cast iron, and a new frame keeper's house replaced the original stone dwelling (see right). Both a contemporary photograph and an illustration show a tower of larger diameter but not much higher than its predecessor and a keeper's house with palladian-like windows and bargeboards. The third tower only existed about 20 years, however, for in 1901 Long Island Head Light was relocated further west so that it would not be damaged by gunfire from batteries at Fort Strong. The new tower—the present one—was brick, 52 feet high, and more cylindrical than its predecessors. The frame keeper's house and outbuildings were moved to the new location. Long Island Head light was automated in 1929 and sometime thereafter the keeper's house and outbuildings were demolished.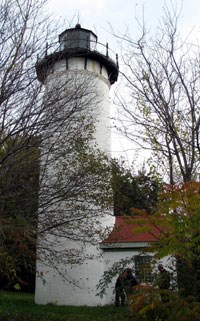 The Coast Guard discontinued Long Island Head Light in 1982 but reconsidered this decision in 1985. The tower was then renovated, and a solar-powered light installed. The light still operates today.
Prepared by Nancy S. Seasholes, 2009
---
* D'Entremont, Jeremy. Long Island Head Light. New England Lighthouses: A Virtual Guide. 2007.
Additional information
.
Last updated: February 26, 2015