Deer Island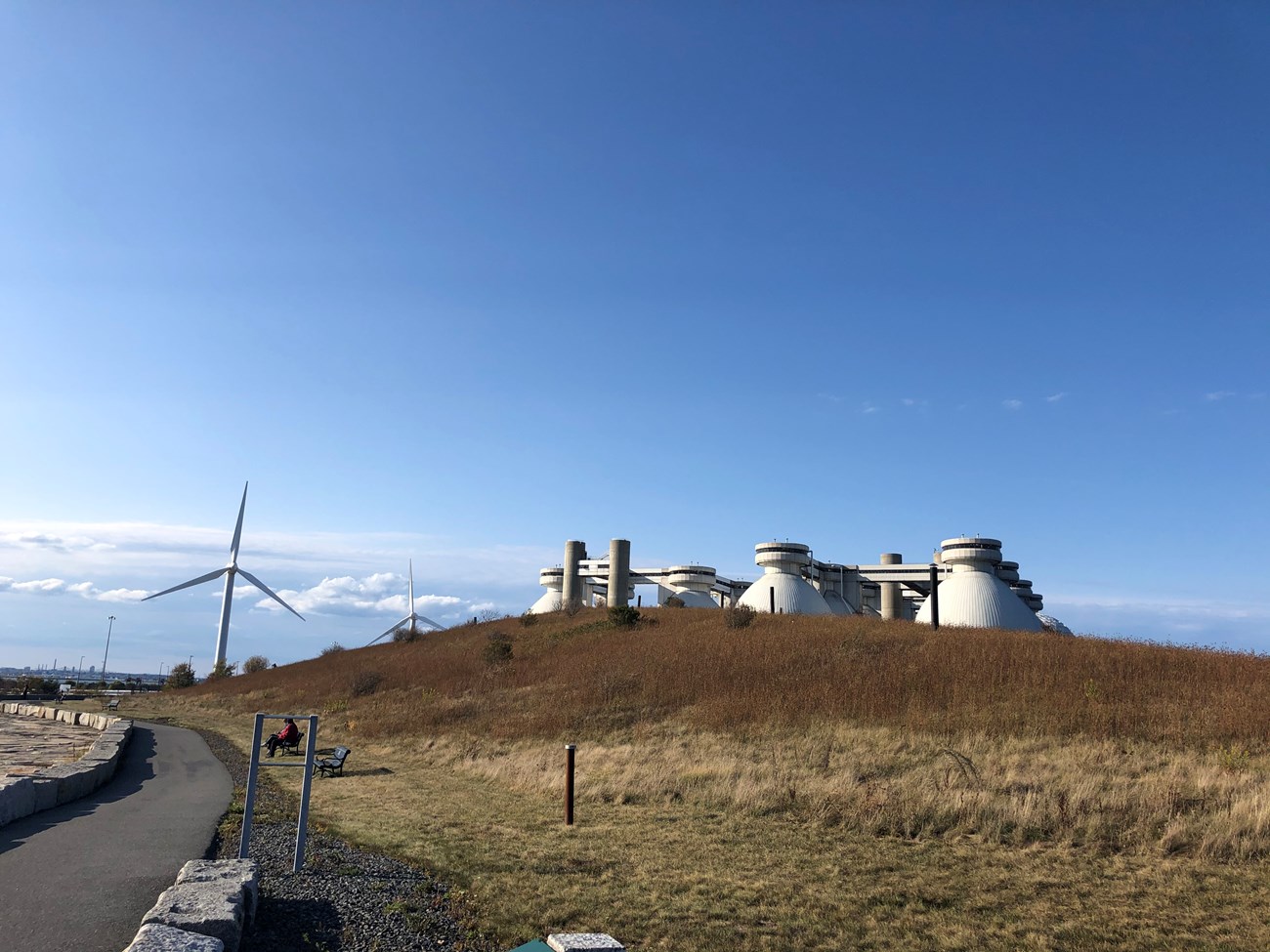 Tour the "state of the art" wastewater treatment facility or stroll 60 acres on the shoreline path.
Sixty acres of park land surrounding the treatment plant offer opportunities for walking, jogging, sightseeing, picnicking, and fishing. There is a 2.6-mile accessible perimeter pathway and another 2 miles of trails on the hills of Deer Island. (Dog walkers are reminded that dogs must be kept on a leash at all times and to clean up after their pets.)
Visitor Facilities & Services
| | | | |
| --- | --- | --- | --- |
| Hours: | Park: Sunrise to Sunset | Piers/Docks: | Yes |
| Visitor season: | Year Round | Boat slips: | 0 |
| Visitor staff: | Yes | Moorings: | 0 |
| Guided tours: | By Appointment Only | Park boats: | N/A |
| Lifeguards: | No | Car access: | Yes |
| Flush toilets: | No | Campsites: | 0 |
| Composting toilets: | Yes | Group campsites: | 0 |
| Picnic areas: | Yes | Camping capacity: | 0 |
| Refreshments: | No | Cooking grills: | 0 |
| Drinking water: | No | Walking trails: | Yes |
On-island Circulation: There is a 2½ mile recreation paved path around the perimeter of the island; service roads are throughout treatment plant, but with restricted public access.
Visitor Cautions: The island is primarily an industrial site and reservations must be made to tour the treatment plan. Open flames are restricted in some areas of perimeter path. Rising tides may trap the unwary visitor who leaves the pathway and enters the intertidal area at low tide at low tide.
Short History
Deer Island has been connected to the mainland since Shirley Gut, once separating the island from Winthrop, was filled in by beach erosion in the famous 1938 hurricane. The former-island has a rich human history. It has been used by Indigenous peoples, quarantined immigrants, farmers, orphans, paupers, military personnel, and tens of thousands of prisoners at the former county house of corrections.
The new Deer Island Waste Water Treatment Plant continues longstanding use of the island for sewage disposal facilities. The first was constructed on Deer Island in the late 1800s and expanded in the 1960s. In the 1990s, hundreds of engineers and thousands of construction workers brought into being the treatment plant that now serves Greater Boston. People around Boston are proud today of Deer Island as a symbol of natural resource protection and environmental stewardship.
Some phases of Deer Island's history, however, are far more problematic. During the King Philip's War, an Indigenous armed resistance to European colonization, Deer Island became a place of internment in the winter of 1675-76 for approximately 500 Indigenous peoples, whom Europeans had removed from their homes and villages. Many of those imprisoned died that winter without access to adequate food or shelter. In the 1800s, when the Great Famine drove more than a million Irish citizens to immigrate to the United States, Deer Island was the landing point for thousands of refugees, many sick and poverty-stricken, hoping to reach the Port of Boston. In June 1847, the City of Boston established a hospital on Deer Island. Approximately 4,800 men, women, and children were admitted for treatment in the years from 1847 to 1849. Many recovered, but more than 800 died and were buried in the Rest Haven Cemetery, where their memory now honors the struggles of their countrymen. In 1850, an almshouse was built to house "paupers."
Natural History Overview
Vegetation
Native plants and shrubs.
Wildlife
Please see Animals page for more information.
Geology
A glacial drumlin was relocated to form a man-made berm, which serves as a visual barrier between Winthrop and the treatment plant. Tidal flats surround the island.
Water Features
The treatment plant, designed to treat sewage, is perhaps one of the largest and most elaborate constructed water features in the country. It is designed to treat wastewater from 43 cities and towns.
Views and Vistas
The twelve 150-foot tall sludge digesters, called by many the "giant eggs", are a new landmark in the harbor, visible from many points but obscured from other points by other island drumlins. A man-made berm conceals the digesters from Winthrop. From the top of the digesters, one can see Logan Airport, downtown Boston, and the middle and outer harbor islands. The perimeter walk around the island offers views of the north shore of metropolitan Boston, the main shipping channel and the nearby Gallops, Long and Spectacle Islands.
Structures
Buildings
Historic pump house (listed on National Register of Historic Places)
Complex of sewage treatment buildings
Fortifications
Boundary wall ruins from Fort Dawes.
Other Structures
Structures
Historic pump house (listed on National Register of Historic Places)
Complex of sewage treatment buildings
Boundary wall ruins from Fort Dawes.
Last updated: November 30, 2023