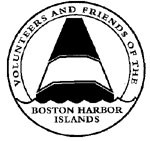 You may join the Volunteers & Friends of the Boston Harbor Islands and help serve the park on your own schedule. The Friends is a non-profit organization that encourages public use of the islands, balanced with the need to advocate for the protection of their fragile ecosystem and historic environment. Members provide services to the Boston Harbor Islands National Park Area through volunteer programs, public education, and advocacy efforts. Among the many volunteer opportunities are the following:
Visitor Services Volunteer: Greet Visitors, conduct tours, assist rangers, and help on boats to the islands.
Campground Host Volunteer: Greet and assist visitors as they arrive, assist rangers with programming, and help with dock duty or trail maintenance.
FBHI Office Volunteer: Answer phone, mail and e-mail. Work on ticket sales, data entry, memberships and more.
Want to join? Go to www.fbhi.org.