Early Pest Detection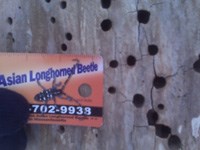 Surveillance, Monitoring and Rapid Response
Early detection of invasive plants, animals and diseases was ranked among the top priorities in national parks across the country. Known impacts of invasive species can include loss of threatened and endangered species, altered composition of terrestrial and aquatic communities, and reduction of overall species diversity. In order to prioritize and respond to risks, park managers at the Boston Harbor Islands staff are organizing volunteers to help:
create and update an early pest detection list for the Boston Harbor Islands;
identify and monitor invasive plant and forest species; and
record and respond to infestations.
If you are interested in helping park rangers identify, monitor or respond to pest infestations, please register for a program on Stewardship Saturdays.
Last updated: February 26, 2015