News Release
Summer Newsletter 2023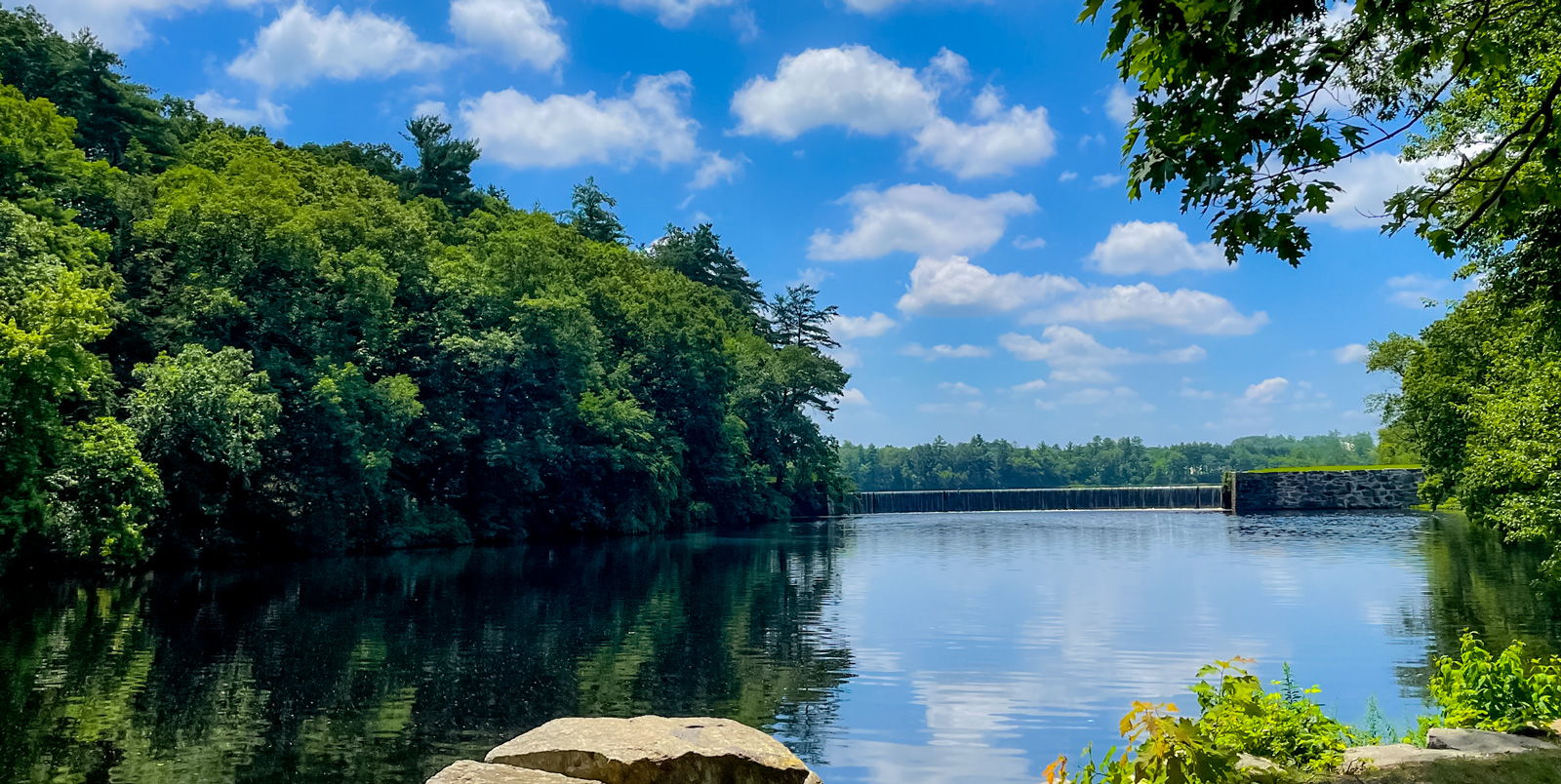 News Release Date:
August 3, 2023
Science and Signs and Secretary in Summer, Oh My! 
Happy summer to you all -- what a summer it has been so far! We are celebrating the installation of new interpretive signage in Slatersville. Many thanks to the research and planning of our Interpretation & Education staff and the hard work of our Facilities & Maintenance staff. We have been enjoying public programs with the help of our three dedicated science interns and one archaeology intern.  
It all paid off in June, when U.S. Secretary of the Interior Deb Haaland visited to recognize our hard work and success in setting up the new Blackstone River Valley National Historical Park. 
And we are not done yet! Roger Williams National Memorial has some incredible public events in the upcoming Saturdays in Providence. Not to mention Walkabouts, Towpath Talks, and Bike the Blackstone. We offer a wide variety programs and activities for you to enjoy – many of which are held in collaboration with our amazing partners, so please look over our list in this newsletter.  
As the summer winds down, we will release the draft General Management Plan (GMP) for public review and comment and host several in-person and online public meetings for the Environmental Assessment (one component of the GMP). You can find out more information about that on our website. 
Our staff and I wish you a wonderful latter half of the summer, and we look forward to seeing you at a program, activity, and meeting very soon. 
 
-Superintendent Eric Breitkreutz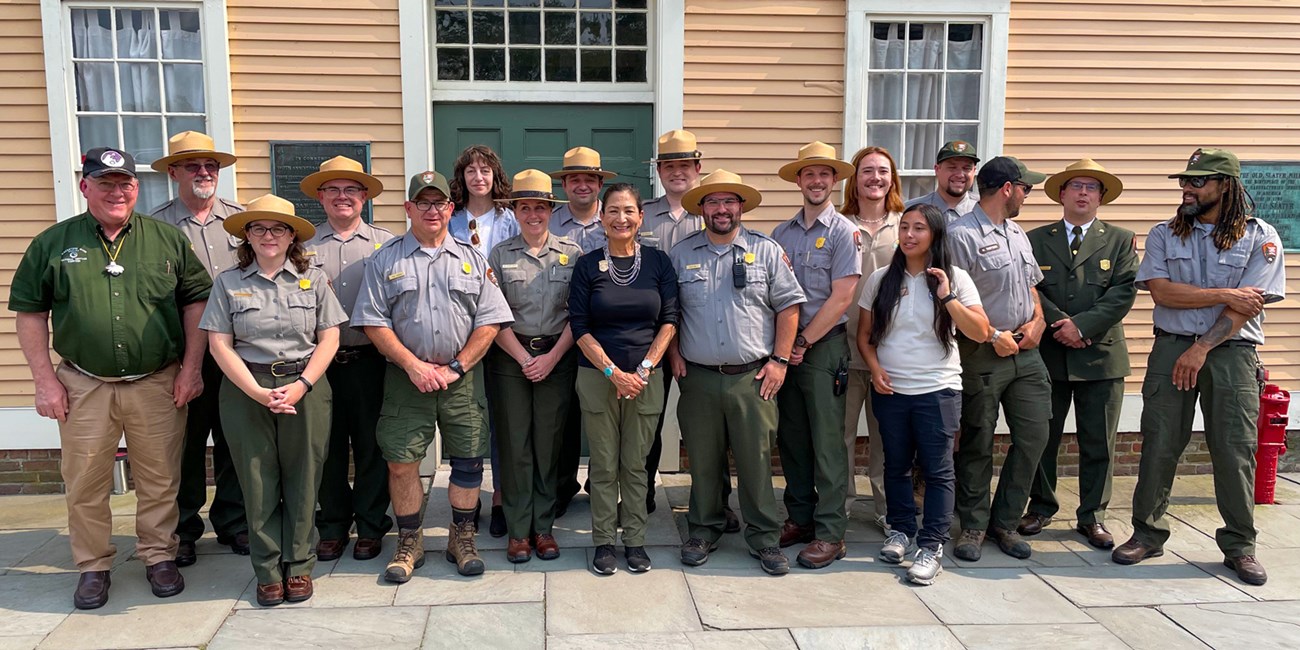 Secretary Haaland Visit to Blackstone River Valley National Historical Park
On Friday, June 16, 2023, Secretary of the Interior Deb Haaland completed a multi-day trip to Massachusetts and Rhode Island.
Secretary Haaland met with leaders from the Wampanoag Tribe of Gay Head (Aquinnah), Mashpee Wampanoag Tribe, and Narragansett Indian Tribe. She concluded her tour with a visit to Blackstone River Valley National Historical Park in Pawtucket, RI.
Federal, state and local leaders including Senators Jack Reed and Sheldon Whitehouse, Congressman Seth Magaziner, Governor Daniel McKee and Pawtucket Mayor Donald Grebien were present at Old Slater Mill National Historic Landmark to greet the Secretary.
In July 2021, Haaland established the boundaries of the park, which includes Old Slater Mill National Historic Landmark.
Programs at
Blackstone River Valley National Historical Park: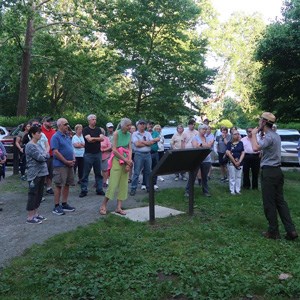 Towpath Talks
Join a park ranger every Saturday at 1:00 PM at Blackstone River Valley National Historical Park for a guided walk along the towpath in Blackstone River State Park (Lincoln, RI). Tours leave from the Kelly and last between 45 - 60 minutes. In case of inclement weather (which we've had plenty of lately) - Towpath Talks will be held in the Kelly House Barn. The tours continue each Saturday through September 2023.

More Information

Walkabout Series
      Join us for a walk through the valley
Through the end of August, park staff offer specialty tours on Thursday nights. These are hosted at varying locations across the Blackstone River Valley. All begin at 6:30 PM and are 60-minutes long.  
Please wear comfortable footwear and bring water. Most tours are outside and often include walking on uneven surfaces on varying types of terrain with no access to bathroom facilities. Bug spray and sunscreen are also highly suggested. 
Bike the Blackstone with Us!
5:30 PM - Wednesdays - July, August, and September
Explore the Blackstone River Valley this summer. Join community VIPs and rangers for guided bike rides along the Blackstone River Bikeway. Guided rides begin at 5:30 PM on Wednesdays in July, August, and September. Tours are between 3-6 miles in length and are offered at varying locations. Bikes and safety equipment are not provided and must be brought by participants.

More Information
Labor Day Weekend at Slater Mill
Workers throughout United States history have celebrated Labor Day on the weekend prior to the federal holiday, enjoying picnics and music with members of their community.
We invite you to take part in this tradition at Slater Mill this September! Come for specialty tours, free lawn games, or live music acts. Open Thursday-Sunday, September August 31 -September 3, 2023.

More Information
River Bend East Songwriters Festival
The 2023 River Bend East Songwriters Festival will occur Friday, September 1st through Saturday, September 2nd at Slater Mill National Park, 67 Roosevelt Ave., Pawtucket, RI 02860, along the banks of the beautiful Blackstone River! This year's festival will "kick off" with a Friday evening multi-media event featuring J. Michael Graham, High Planes, and David Lawlor (Run of the Mill). Music will begin at 6:30 PM.
The festival continues Saturday afternoon, September 2, 2023, with a showcase of the region's best singer-songwriters. Free admission for both events and fun for the whole family!

More Information
---
Programs at
Roger Williams National Memorial: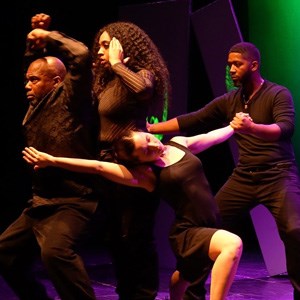 Bliss Body
Join us at Roger Williams National Memorial in downtown Providence on Saturday, August 19th for two showings of Bliss Body, presented by The Everett Company Stage School at 5:00 PM and 7:00 PM. It is a piece that collages dance, imagery and true stories, to explore and share experiences of bliss. It is a provocative and moving hour of dance and theater that includes quiet meditation and energetic dancing, that considers peace and struggle, that asks how we find bliss in today's world. It is an invitation to be present, let go, join in and feel bliss!

More Information

Saturday Morning Yoga
Yoga is back! Through September 30th, visitors can experience the natural beauty of Roger Williams National Memorial while enjoying a Saturday morning yoga session. In collaboration with Jala Studio, the class is perfect for all levels and follows a vinyasa practice. It's free and open to everyone. During the session, participants practice yoga poses, breathwork, and meditation while being surrounded by nature's inspiration. Kindly remember to bring your yoga mat or towel.

More Information

Got Science?
Science Saturdays at Roger Williams National Park are on the second Saturday of August and September. Show your science pride by having your favorite animal or plant painted on your face! The Roger Williams Park Zoomobile, the Rhode Island Black Storytellers, Providence Parks, US Fish and Wildlife, and others will all be there as we explore our world! Free, August 12 and September 9 from 1:00 - 3:00 PM at 282 North Main Street, PVD.

More Information
---
Other News at
Blackstone River Valley National Historical Park:
Out in the Valley
New Signs in Slatersville
There are signs of change in North Smithfield! Look for new waysides in Slatersville, RI, when you are out exploring the park.

---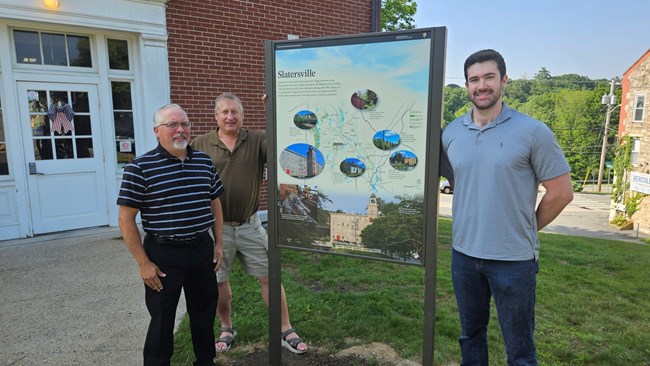 Slatersville Tour on the NPS App!
The North Smithfield Heritage Association has a new NPS sign outside its offices in Slatersville, RI. From left to right are Jeffrey Harris, Rich Keene, and Sam Turco. Photo courtesy of Bonnie Combs.







---
What's New in Whitinsville?
The Armenians of Whitinsville project is expanding! With generous support from the State of Massachusetts, the non-profit team will have a chance to expand their database and preserve local Armenian history. Sign up for their newsletter HYELIGHTS here.
---
Other News at

Roger Williams National Memorial: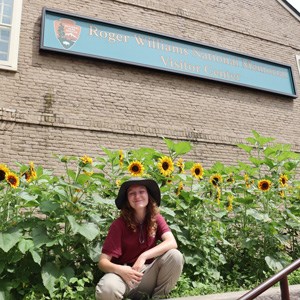 Tatum Pelletier
This summer, Roger Williams National Memorial hosted its first summer fellowship. Tatum Pelletier is an undergraduate student at URI majoring in Wildlife Conservation Biology. She has spent her summer learning about the basics of federal land management by getting her hands dirty. She has assisted with multiple special events at the National Memorial as well as within Blackstone River Valley.
Sometimes, it's the small things that make the biggest difference though. Take a look at the magnificent sunflowers growing next to the 282 North Main Street visitor center next time you drive by. Tatum has spent some of her free time with this fellowship tending that particular garden.
Once her fellowship is over, Tatum will be back at URI where she will graduate next spring. After that, she hopes to join the military and then bring those skills to a career in public service in America's National Parks.
Trevor Lamb
This June and July, Trevor Lamb served as an Archaeology Interpretation Development Intern at Blackstone River Valley National Historical Park.
Trevor is a Ph.D. candidate at Boston University in the Anthropology department. He led several walking tours, including a walkabout in Valley Falls. Trevor also offered a training on Archaeology 101 for members of the National Park Service Volunteers-In-Parks program with Blackstone River Valley National Heritage Corridor.
Trevor leaves the Blackstone Valley to continue his work for BU. He will spend the month of August at a field school in Alaska.
Last updated: August 4, 2023