Waterfall Hikes
Be cautious while enjoying waterfalls around the parkway. Do not climb on rocks near waterfalls and use extreme caution when walking along riverbanks. These rocks are slippery from mist and algae. Swimming in parkway waters is illegal.
Hiking to a waterfall can be a wonderful and rewarding experience for your day. Below is a list of popular hikes with waterfalls along the parkway.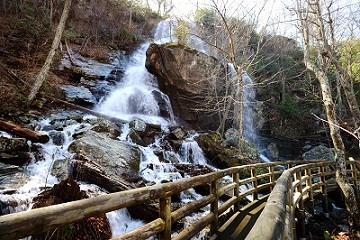 Apple Orchard Falls MP 78
These falls have a viewing platform directly underneath the falls, creating a refreshing shower during the summer months.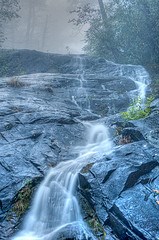 Falling Water Cascades MP 83
Near Peaks of Otter, the trail is lined with rhododendrons, creating a beautiful hike setting.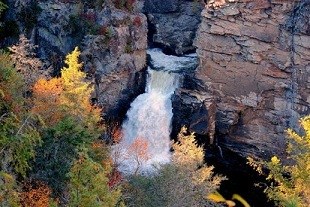 Linville Falls MP 316
Linville Falls has four different overlooks to properly appreciate the falls with two main hiking trails. Both begin at the Linville Falls visitor center and pass through remnants of a virgin hemlock forest mixed with other familiar tree species such as white pine, oaks, hickory, and birch. A colorful and varied display of wildflowers decorates the trails in spring. Red and golden leaves in fall beautifully contrast with the soothing green of hemlocks. The Linville Falls trails range in difficulty from moderate to strenuous.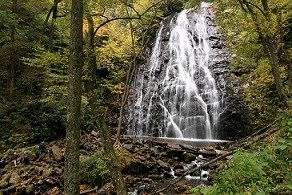 Crabtree Falls MP 339
At the base of the 2.5 mile loop trail is spectacular Crabtree Falls, where water cascades over a 60-foot rock cliff. Many types of ferns and wildflowers thrive in the hollow, benefiting from the fall's cool spray. Originally, these falls were known as Murphy's Falls. The Park Service changed the name to Crabtree Falls when the Parkway was built in the 1930's.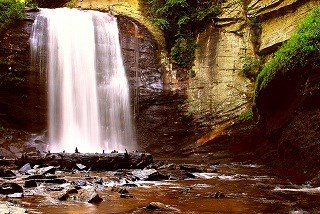 Looking Glass Falls MP 411
This waterfall is a 15 minute drive (9 miles) off of the Parkway, down US 276 S, in the Pisgah National Forest. Looking Glass Falls is one of the most symmetrical waterfalls in western North Carolina. The name comes from Looking Glass Rock which resembles a wintertime mirror, or "looking glass", of sunlight as water freezes on its side and reflects the sun. This waterfall is very popular, as there is no hiking necessary to see it, making it quite accessible.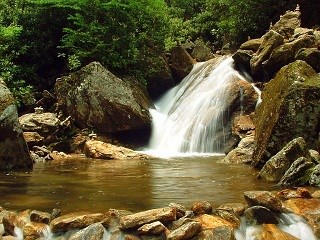 Skinny Dip Falls MP 417
Skinny Dip Falls lies a short distance off the Parkway, along the Mountains-to-Sea trail.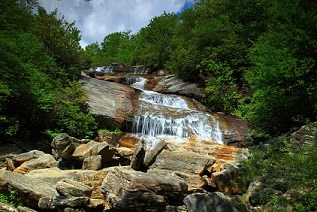 Graveyard Fields Falls MP 419
The name "Graveyard Fields" originates from a time when a great windstorm felled hundreds of spruce and fir trees in the area. The moss covered stumps resemble graves.
Last updated: December 26, 2022