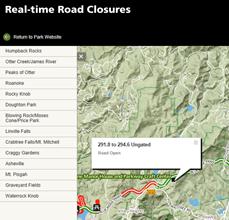 Road Closures
Road maintenance projects and weather may cause temporary road closures along the Parkway. Please check The Blue Ridge Parkway Road Closure Map (http://go.nps.gov/brp-map) for real-time road closure/condition information. Please note that the facility operating dates on the map are tentative. Please check the Operating Schedule for dates.
Facility Closures
• Otter Creek Restaurant (Milepost 60.8) south of Buena Vista, VA is closed.

Trail Closures
• Dobie Mountain Trail at Humpback Rocks in VA (Milepost 6) is closed.