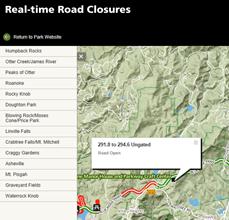 Road Closures
• Several ongoing maintenance projects have caused road closures that will be in effect during 2016. See details of current projects at the bottom of the page.
The Blue Ridge Parkway Road Closure Map provides real time road closure/condition information. This feature may be particularly helpful when winter weather conditions force temporary and fast-changing closures. In other seasons of the year, storms can sometimes cause temporary closures due to downed trees or debris.
Trail Closures
• Dobie Mountain Trail at Humpback Rocks in VA (Milepost 6) is closed.
• Sharp Top Trail (Milepost 86) will be closed on weekdays from July 18 through September 1, 2016. The trail will be closed from the Nature Center near the Peaks of Otter Visitor Center to the intersection with the Summit Loop Trail near the Sharp Top Bus Shelter. The trail will be open on weekends. More information...
• Trails and backcountry campsites in Rock Castle Gorge in the Rocky Knob area (Milepost 166-174) near Floyd, VA are closed due to damage caused by a flood. Map of closed trails...
Facility Closures
• Otter Creek Restaurant (Milepost 60.8) south of Buena Vista, VA is closed.