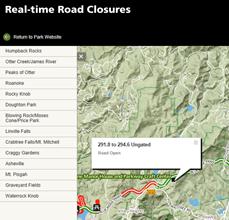 Road Closures
Road maintenance projects and weather may cause temporary road closures along the Parkway. Please check The Blue Ridge Parkway Road Closure Map (https://go.nps.gov/brp-map) for real-time road closure/condition information.
Milepost 27 to 37
Milepost 64 to 101
Milepost 150 to 175
Pavement resurfacing with one lane closures through fall 2017. Visitors may experience delays. Work zones will be managed by one-lane traffic control using flaggers and an escort vehicle seven days a week. Active work zones will be closed overnight from 10:00 p.m. to 6:00 a.m., seven days a week. More information
Milepost 216 to 228 - Visitors may experience delays through fall 2017 due to paving. Work will be completed during weekdays and daylight hours, under a one-lane closure, with flaggers providing traffic control.
Work for August 14-19:

Daytime single lane closures with traffic control

MP 27.2-37.5
MP 64.5-101
MP 165.3-174.6

Full night-time closure between 10:00 PM - 6:00 AM

MP 167.1-175.9 Monday - Thursday
Night access to Rocky Knob Campground (MP 167.1) from Highway 8 will remain open throughout the project.
Facility Closures
• Otter Creek Restaurant (Milepost 60.8) south of Buena Vista, VA is closed.
• Bluffs Lodge is closed.
• Rocky Knob Cabins are closed.
Trail Closures
• Dobie Mountain Trail at Humpback Rocks in VA (Milepost 6) is closed.