Tanawha Hiking Trail
The Tanawha Trail, stretching 13.5 miles from Julian Price Park to Beacon Heights, parallels the Blue Ridge Parkway on Grandfather Mountain in North Carolina. Tanawha, the Cherokee work for fabulous hawk or eagle, is an appropriate name for this trail that offers hikers spectacular views of distant mountains.
Completed in 1993, the Tanawha Trail, like the final section of the parkway it mirrors, is unique in construction. The trail traverses a fragile and ancient ecosystem and leads hikers through a surprising range of biological and geological terrains. Some sections tunnel through thickets of laurel and rhododendron. Others dip down into remote hardwood coves and then ascend into evergreen glens. Boulder fields and cascading streams punctuate the landscape.
Sections above the Viaduct and along Rough Ridge are strenuous, but overall the trail is an easy to moderate walk. The many accesses from the parkway let hikers choose as long a section as they like. To preserve this delicate area, stay on designated paths, bridges, and boardwalks.
Highlights
From the access point below the Linn Cove Viaduct, the Tanawha Trail passes underneath the Viaduct and ascends steeply up stone steps past an enormous boulder wall. The trail levels off and enters a shady glen thick with birch and beech trees. Beyond the cascading water of Wilson Creek, the trail crosses a clearing filled with huge rock formations. The trail here, accented with flat rocks, is like a flagstone path.
The trail then climbs sharply to Rough Ridge and over a 200-foot long boardwalk. Here the spectacular view into the Piedmont is unobstructed because of the unusual low-growing and fragile mountain-heather ecosystems. It also offers an outstanding glimpse of the Linn Cove Viaduct and several mountains—Grandmother Mountain, Hawksbill, and Table Mountain.
The trail continues on through a stately spruce and hemlock forest into a wooded glen reminiscent of New England. Its rocky landscape is filled with poplars, yellow birch, and oak.
Past Raven Rock, the trail tunnels through mountain laurel and rhododendron. This sheltered section then gives way to a more open area with a rock garden—large ferns cascade out of immense boulders. More thickets of rhododendron lead to the junction of the Daniel Boone Trail, one of the many trails on Grandfather Mountain. Hiking or camping on Grandfather Mountain requires a permit. Visit the
Grandfather Mountain State Park website
for additional information.
The Tanawha Trail passes several small cascades and crosses Boone Fork Creek. The trail winds in and out of rhododendron and laurel thickets, joins with an old logging road, and passes through a hardwood forest.
In the last section, leading to Price Park Picnic Area, the trail breaks out of the woods into open fields. Here, it parallels and crosses Holloway Mountain Road, passes apple orchards, an old grave site, and pasture land, which in spring is blanketed with numerous wildflowers. Finally the trail joins Boone Fork Road for a short walk into the campground.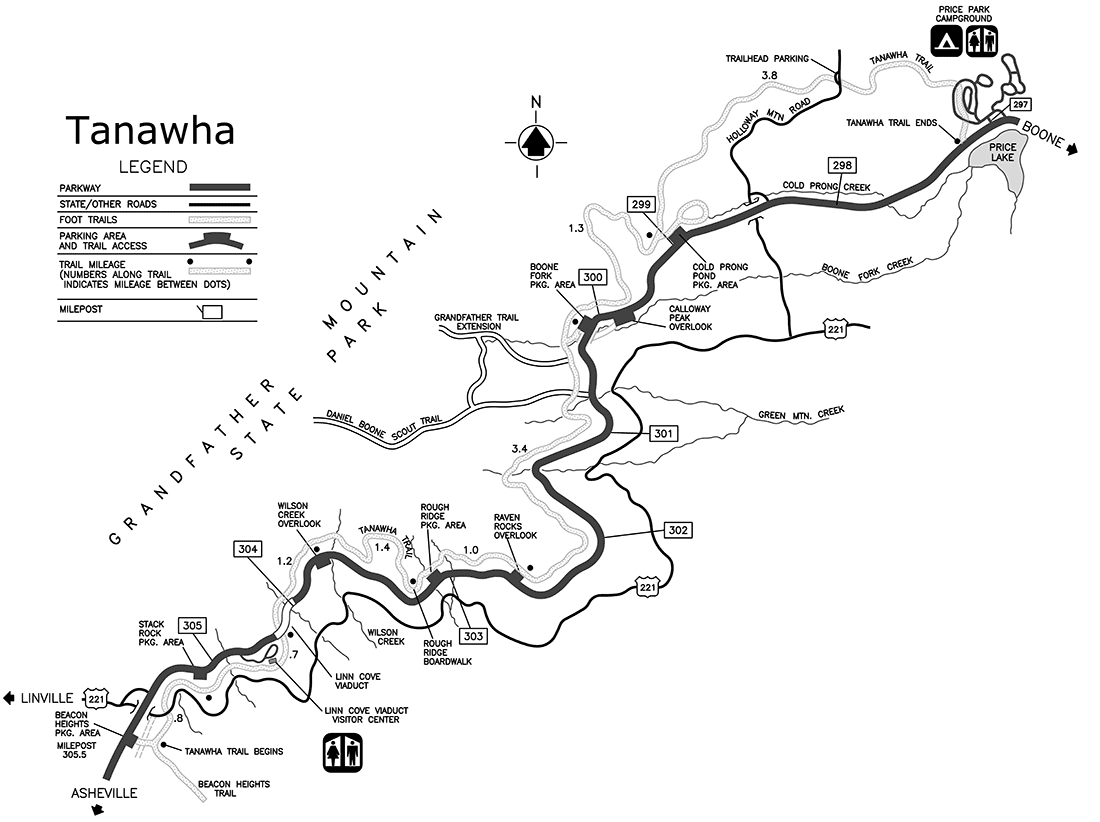 Last updated: July 22, 2019