Picnicking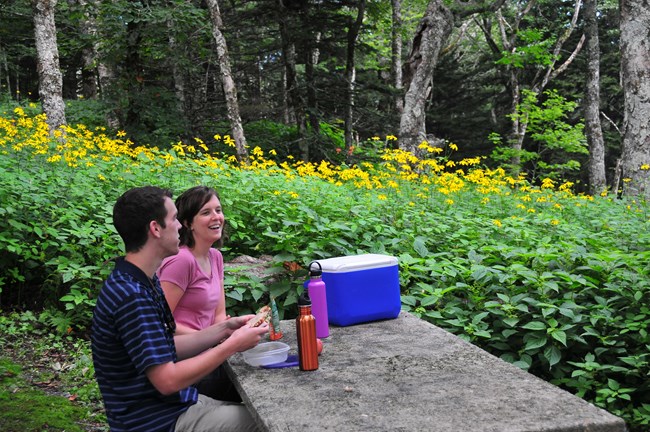 Fourteen picnic areas are located along the parkway. In addition, many overlooks have tables where you may picnic. Generally, picnic areas are open daily from sunrise until sunset, mid-spring through fall (you can check each area's
opening dates
).
You can use camping stoves and self-contained charcoal grills to prepare food at any picnic area. Fires are permitted only in the fire ring provided. Only heat-treated firewood that is bundled and certified by the United States Department of Agriculture (USDA) or a state agency may be brought onto the parkway. For more information, please visit our
destructive pests page
.
All picnic areas have restrooms.
| Milepost | Picnic Area | Number of Sites |
| --- | --- | --- |
| 8.5 | Humpback Rocks | 91 |
| 63.6 | James River | 10 |
| 86.0 | Peaks of Otter | 58 |
| 154.5 | Smart View | 72 |
| 169 | Rocky Knob | 26 |
| 188 | Groundhog Mountain | 33 |
| 217.5 | Cumberland Knob | 56 |
| 241.1 | Doughton Park | 30 |
| 271.9 | Jeffress Park | 30 |
| 296.4 | Julian Price Park | 100 |
| 316.5 | Linville River | 100 |
| 339.5 | Crabtree Meadows | 82 |
| 367.6 | Craggy Gardens | 86 |
| 407.8 | Mount Pisgah | 50 |
Last updated: July 15, 2021