Driving Safety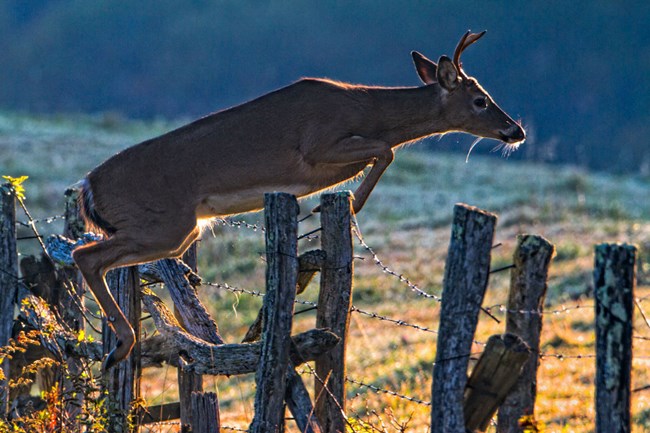 The Blue Ridge Parkway, often called "America's Favorite Drive," is beautiful, but requires extra care while driving. Some of the wonderful things to observe along the way include the mountains, trees, wildflowers, the graceful curves... and the speed limit, which is strictly enforced for your safety.
Law enforcement rangers investigate on average 200 accidents each year with half of those resulting in serious injury.

Check out the driving tips below to stay safe and have a easy ride.
Steep Grades
In some places, the parkway has steeper grades than normally found on highways. Without paying close attention, your speed can increase far more than you expect.

Unforgiving Road Shoulders
The parkway's road shoulders are narrow in places so that the meadows or forest edges grow close to the pavement. This is part of the beauty of the drive, but may require some extra attention.

Built-in Distractions
Wildlife, wildflowers, bicyclists, and extraordinary views… all of these contribute to the parkway experience and every traveler should be aware of these while enjoying the drive. Take advantage of the more than 250 overlooks to safely enjoy the views.

Limited Sight Distances
Just as there aren't many straight lines in the natural world, the parkway was designed with gentle curves and not many straight sections. This is part of what makes the road seem to lie gently on the land and it also requires some extra care while driving.

Speed Limit Changes
The parkway speed limit is mostly 45 mph, but occasionally it will drop to 25 mph or 35 mph.

Decreasing Radius Curves
Most highways have curves with a standard radius that never changes. In other words, you do not have to adjust your steering through the curve. A decreasing radius curve may tighten as you go through it. This is a design feature of the parkway that requires some extra care, especially on motorcycles.

Driving Large Recreational Vehicles
Large RVs are popular means of travel on the parkway, but be advised that going up or down steep grades can be slow. Pull over often to let faster moving traffic get by. You may want to check the heights of the parkway's twenty-six tunnels (mostly south of Asheville) to ensure that your rig will negotiate all of them.



Last updated: October 7, 2019