Doughton Park - Milepost 238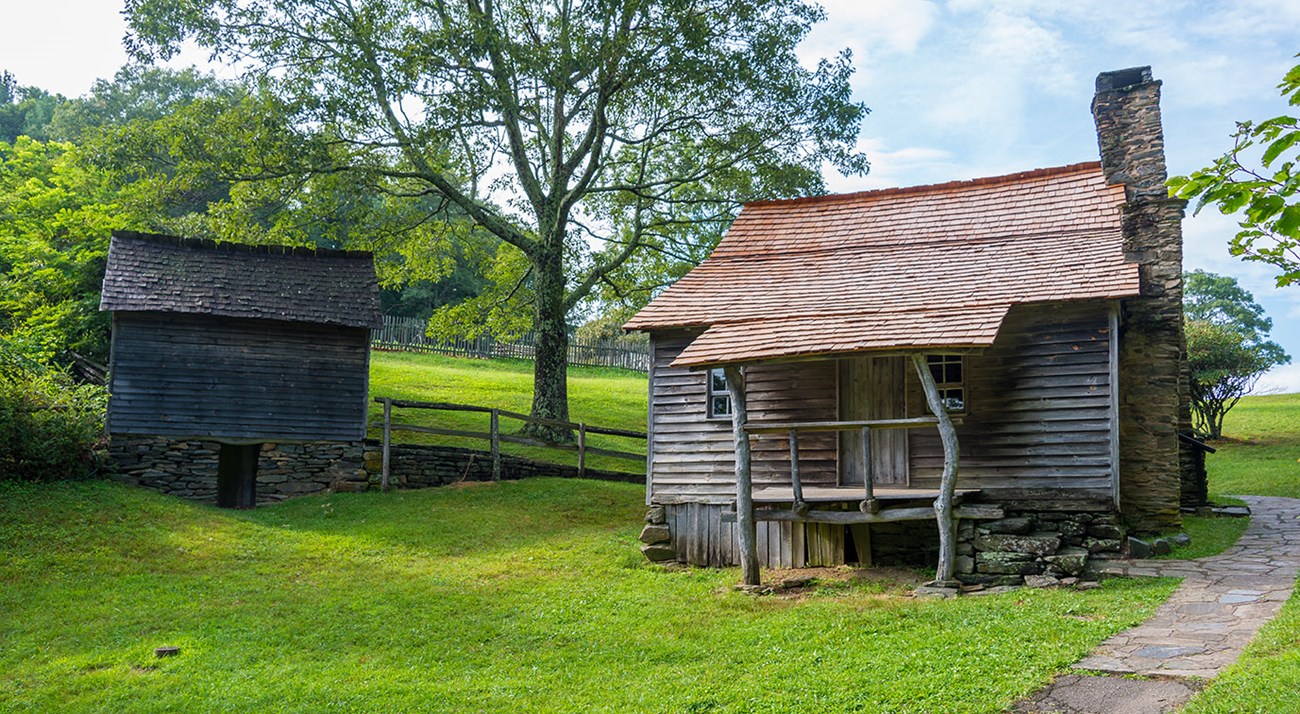 Appalachian history comes to life among the ridgetop meadows and steep mountainsides of Doughton Park. Hike some of the 30 miles of trails here or visit Brinegar Cabin, a well-preserved piece of early mountain life.

At a Glance:
Historic Brinegar Cabin
Doughton Park Visitor Center and Park Store
Bluffs Restaurant
Hiking trails
Campground
Picnic area
Mountain music concerts (check the website calendar for schedule)
Points of Interest:
Brinegar Cabin: The cabin is open to visitors on weekends in the summer and fall, staff permitting. Enjoy cultural demonstrations on Saturday and Sunday from 10:00 AM-5:00 PM in summer through early fall. Tour the demonstration garden and exhibits for a chance to step back into history. Check the opening schedule for specific dates. Learn more about the Brinegar family.
Sleeping and Eating:
The Bluffs Restaurant at Doughton Park: Reopened in 2020. In 1949, The Bluffs became the first dining establishment to open on the Blue Ridge Parkway and served customers for 61 years. Generations of families made the restaurant a destination after a day of hiking nearby trails or nights spent at the neighboring campground or lodge. Today's diners can expect old favorites on the menu, including fried chicken, ham biscuits, and berry cobblers, along with exciting new recipes.

Doughton Park Picnic Area: Enjoy your lunch outside at the 56-site picnic area. Open seasonally; check the opening schedule for specific dates.

Doughton Park Campground: Spend a night under the stars in this 135-site campground. See the camping page for more information. Campground open seasonally; check the opening schedule for specific dates.

Things to Do:
Hike a Trail: Stretch your legs on a modest stroll or take an adventurous all-day trail through the meadows, streams, and hillsides of Doughton Park. Hikers may encounter 25 stream crossings through ankle to knee-deep water. Visit the Doughton Park hiking trails page for more information.

Sunday Afternoon Mountain Music: During summer and early fall, enjoy outdoor concerts that showcase regional musicians playing traditional music. Concerts are also offered at Humpback Rocks, Peaks of Otter, Roanoke Mountain Picnic Area, and Mabry Mill. Check the website calendar for schedule.