Doughton Park Hiking Trails
More than 30 miles of hiking trails meander through Doughton Park's pastures and along its streams. Hikers may encounter 25 stream crossings through ankle to knee-deep water. Visitors can stretch their legs on modest strolls or embark on more ambitious, day-long outings. Some trails may be strenuous.
Bluff Mountain Trail offers many scenic vistas and traverses relatively level terrain. The trail runs near the Parkway and is accessible from many locations along its 7.5 mile route from Brinegar Cabin to Basin Cove Overlook.
Cedar Ridge Trail skirts the northern side of Doughton Park's boundary. Beginning near Brinegar Cabin, the trail descends a forested ridgeline 4.4 miles to the Grassy Gap Fire Road. The elevation changes more than 2,000 feet, making this a beautiful but strenuous trip.
Grassy Gap Fire Road is a 6.5 mile trail, wide enough for hikers or horseback riders to travel side by side. The trail starts at Milepost 243.9 and ambles down the mountainside past the primitive campground to State Route 1730 (Longbottom Road). Horseback riders must enter and exit from Longbottom Road. Bicycles and motorized vehicles are prohibited.
Basin Creek Trail, accessible only from the Grassy Gap Fire Road, winds past cascading waterfalls for 3.3 miles to the century-old Caudill Cabin, former home of the Martin Caudill family. Part of the once-thriving Basin Cove community, this cabin was one of the few structures that withstood the devastating 1916 flood. Allow plenty of time for the 3.3 mile return trip and for the additional hike along Grassy Gap Fire Road.
Bluff Ridge Primitive Trail
Bluff Ridge Primitive Trail is the shortest but steepest route into Basin Cove. The strenuous climb up the trail makes the hike seem much longer than 2.8 miles.
Flat Rock Ridge Trail begins on the mountain-top meadow at Basin Cove Overlook and ends on the damp, cool banks of Basin Cove Creek alongside the Grassy Gap Fire Road. The trail offers glimpses of rugged mountain slopes that attracted and challenged early settlers.
Fodder Stack Trail, 2 miles round trip, shows off its delicate display of wildflowers in spring and rewards hikers year-round with the varied hues and fragrances of mixed pine and hardwood forest. Most of the trail is easy to moderate, with a short steep section at the start. Recommended for families, the trail represents a cross-section of Parkway environments.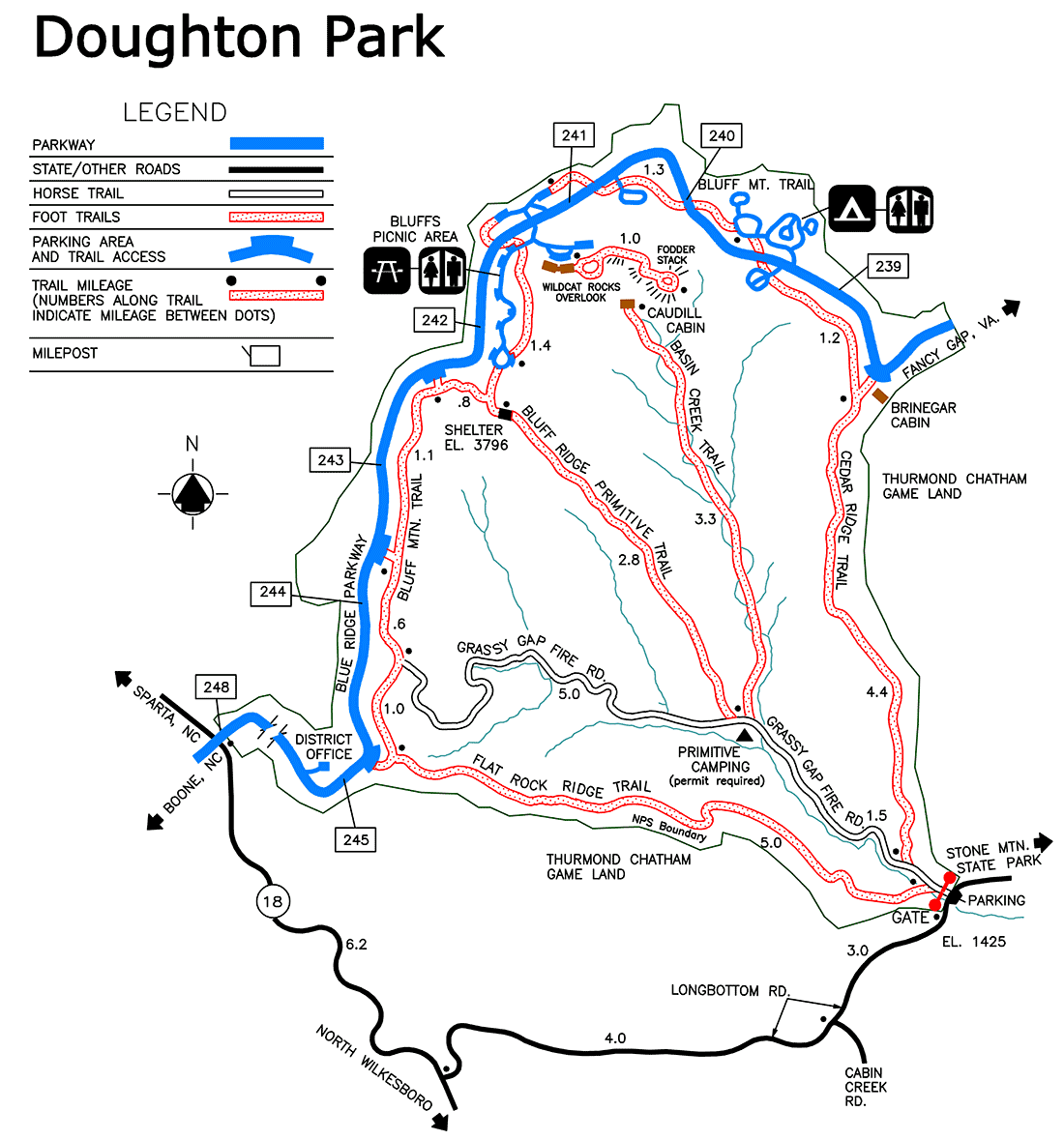 Primitive Camping
For the more adventurous, backcountry camping is permitted at the designated area in Basin Cove. A permit is required and can be obtained in person or by mail from the District Ranger Office, 49800 Blue Ridge Parkway, Laurel Springs, NC 28644 or at (828) 348-3487. The number of sites and group size are limited. Horseback camping is not permitted. For those in primitive camping areas, keep in mind the following: Camping and campfires are only allowed in designated areas, only dead and down firewood may be gathered for fuel, pack out all trash, do not use soap or shampoo in any streams, and toilet facilities must be at least 200 feet from water supplies.
Last updated: April 26, 2021