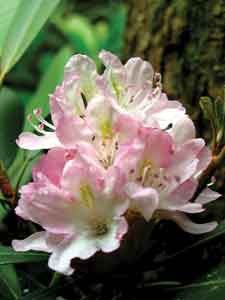 Elevation and north-south orientation can make a big difference in weather conditions and what is blooming. The Parkway's elevation ranges from 649 feet at Virginia's James River to 6,047 feet south of Mount Pisgah in North Carolina.

Shrubs
Catawba Rhododendron (Rhododendron catawbiense)
A medium shrub with pink to purple flowers growing above 3000 feet on exposed ridges. June-Early July. Catawba rhododendron is the purple variety that blooms from early June around the Peaks of Otter in Virginia to the third week of June at Craggy Gardens in North Carolina. Any time between these dates there are spots of the variety in bloom.
Rosebay Rhododendron (Rhododendron maximum)
Also called White Rhododendron. A large shrub with white to pink flowers, over a wide range of elevations.
June-July. Rosebay rhododendron is the larger, white or pink variety that begins in late June and
blooms into July, primarily through Rocky Knob, Virginia.
Flame Azalea (Rhododendron calendulaceum) A medium shrub with bright orange to red flowers. Azaleas are in the rhododendron family. June-July
Wild Hydrangea (Hydrangea arborescens) A medium shrub with large clusters of white flowers. May-August
Mountain Laurel (Kalmia latifolia) A medium shrub with pink flowers. June-July
Pinxter Flower (Rhododendron nudiflorum) A medium shrub with pink honeysuckle-like flowers, common at lower elevations. April-May
For more images check out the photo gallery.