Reptiles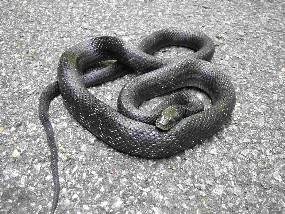 Though amphibians, and especially the salamanders, get more attention due to their diversity, there are also many reptiles found along the Blue Ridge Parkway. On-going surveys have found 20 species of snakes, 10 turtles and 8 lizards, including one federally threatened species and two that are rare in North Carolina.
Visitors are usually most interested in our two species of venomous snakes—Timber Rattlesnakes and Copperheads. Both of these snakes are non-aggressive, avoiding contact with people, and are seldom seen by park visitors. Mainly active at night and in the twilight, these snakes spend the day in sheltered areas where they can avoid the daytime heat. If you are fortunate enough to find one of these two species remember that they are protected by federal law and should not be bothered, for your safety and theirs.
Visits to parkway ponds and wetlands may reveal one or more of our turtles. Snapping turtles inhabit many lakes and streams, feeding on fish and other aquatic animals. The females are often found on land in the spring as they move away from their watery homes and seek out places to dig a nest to lay their eggs. Unfortunately many observations of park turtles by visitors are of dead turtles that have been run over as they attempt to cross the Parkway in search of nest sites.
Download the parkway's Amphibian and Reptile Checklist


Last updated: January 30, 2018