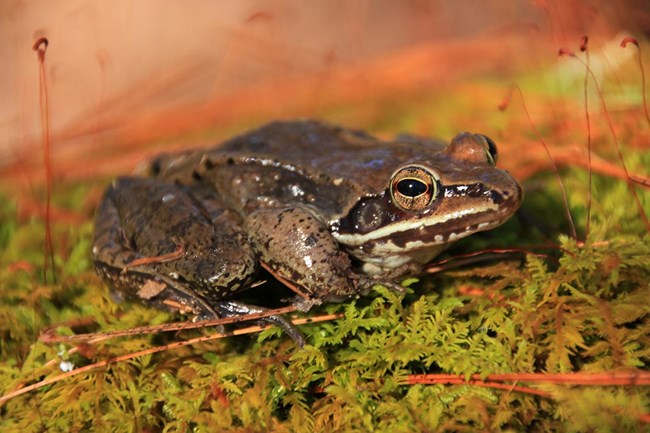 Preliminary surveys indicate that the Parkway supports a large diversity of amphibians. To date, more than 50 species of amphibians—including 12 species of frogs and 43 species of salamanders—have been documented within the Parkway's boundaries. However, this list is by no means complete, and several species which are expected to occur along the Parkway (such as the marbled salamander) have yet to be documented.
The Southern Appalachians are considered the center of salamander diversity on earth and the Blue Ridge Parkway, which follows the high crests of the Southern Appalachian Mountains for 469 miles sits in the heart of this zone. The abundance of rain is probably the primary factor allowing for this richness. Whether laying their eggs, living in streams, or foraging under a rotting log, salamanders depend on water to survive.
Water is essential for other amphibians as well. With the first warm rains in March wood frogs and spring peepers head to vernal pools to lay their eggs. Later bullfrogs, pickerel frogs and American toads will follow suit. By summer the Parkway is alive with the call of frogs.
A growing body of evidence suggests that amphibians are highly sensitive to environmental disturbance, and are declining at rates that far exceed those of other vertebrate groups. These declines have been attributed to habitat alteration, gypsy moth defoliation, pollution from pesticides, acid precipitation, increased ultraviolet radiation due to depletion of the ozone layer, and global climate change.
Parkway programs and management may have contributed to local amphibian declines. Early designers and landscape architects incorporated scenic agricultural landscapes as well as forested natural areas into the design of the Blue Ridge Parkway. Research has shown that forest fragmentation resulting from timbering, agricultural activities, development, roads and utility corridors can have adverse impacts on amphibian populations.
Parkway biologists are working with local researchers and other land managers to determine ways to help our amphibian populations. Cattle are being fenced out of wetlands on Parkway agricultural leases. Trees cut under the hazard tree program are left lying in the woods to provide habitat rather than being hauled away. Parkway biologists are looking at disturbed wetland sites to determine if any can be restored and the return of beavers to the Southern Appalachians will provide additional amphibian sites.