Black Bears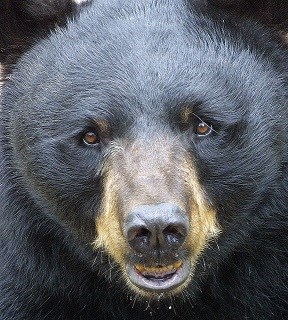 The black bear (Ursus americanus) is a medium-sized bear native to North America. It is the continent's smallest and most widely distributed bear species. Black bears are omnivores and their diets vary depending on season and location. They typically live in forested areas, but may leave forests in search of food.
Black bears have short claws that give them excellent tree-climbing abilities.
A black bear's diet consists of berries, nuts, grasses, forbs, insects and carrion.
There are estimated to be 600,000 black bears in North America. 300,000 of those are in the US alone.
Their mating seasons usually lasts from late June to early August and the sows reproduce every two years.
They are normally 5-6 ft long and 2-3 ft high, and can weigh between 100-400 lbs.
If the winter weather is particularly mild, the black bears will not hibernate, instead foraging for food throughout the season.
The total length of adult bear skulls was found to average 262 to 317 mm (10.3 to 12.5 in).
Black bears feature prominently in the stories of some of America's indigenous peoples. One tale tells of how the black bear was a creation of the Great Spirit, while the grizzly was created by the Evil Spirit.
Winnie the Pooh was named after Winnipeg, a female black bear cub that lived at the London Zoo from 1915 until her death in 1934.
Last updated: June 4, 2021