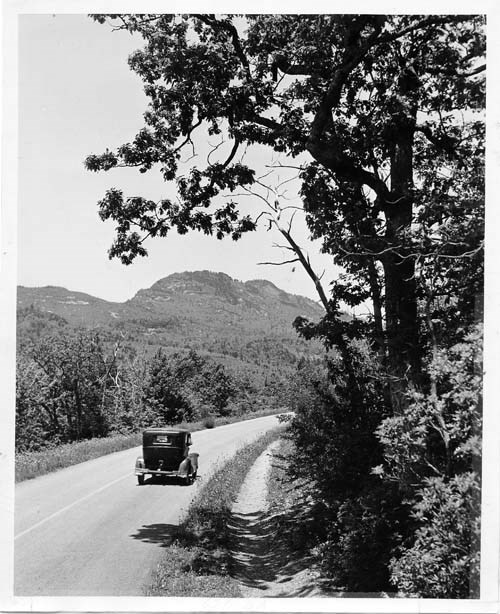 Tourism in the mountains is not new. In fact, it dates back into the mid-19th century and earlier, although it was certainly reserved for the wealthy in the early days. Many people, including those who pushed for mountain parks, spoke of the healthful or "salubrious" climate of the mountains. Many of the "healing springs" or resorts in the Virginia and North Carolina mountains date to this time period as well.
The Peaks of Otter, at Milepost 86 north of Roanoke, has a long history of attracting visitors. A hotel was built here in the 1850s and was remodeled numerous times before the current modern lodge was constructed.
Thomas Jefferson wrote of the Peaks of Otter in his "Notes on the State of Virginia" which he finished in 1781. We can forgive him for thinking that the Peaks were "of a greater height, measured from their base, than any others in our country, and perhaps in North America."
Robert E. Lee was perhaps the most famous and beloved Virginian in 1867 when he and daughter Mildred decided to take a vacation that included a ride up Sharp Top Mountain. Lee was on Traveler, the horse that had carried him through most of the battles of the war, and Mildred rode Lucy Long, a family steed that had also been battle tested. "We sat for a long time on a great rock," Mildred recalled, "gazing down on the glorious prospect beneath." She noted that her father seemed lost in thought, very sad, and spoke few words.
Soldiers from Hunters' Raid in 1864 crossed the mountains at the Peaks, climbed up Sharp Top, and sounding like the modern visitor, noted "As far as the eyes can reach, a fine undulating country is seen. The Peaks of Otter is the finest sight for mountain scenery." Hunter's artillery commander, Capt. Henry A. du Pont, later wrote that this was "one of the most superb views on the whole American Continent lay before us."
The lure of these mountains is also evidenced by the summer homes or vacation homes dating back for generations. Two wealthy Americans of the Gilded Age, George Vanderbilt and Moses Cone, chose locations for homes along areas now associated with the Parkway. Today's visitors can see the Cone's Flat Top Manor at Milepost 294 and, while in Asheville, they can visit the Biltmore Estate.
Exhibits in the Peaks of Otter visitor center explore how people have been drawn to the mountains over the centuries. What lures visitors here today has been the same for centuries.